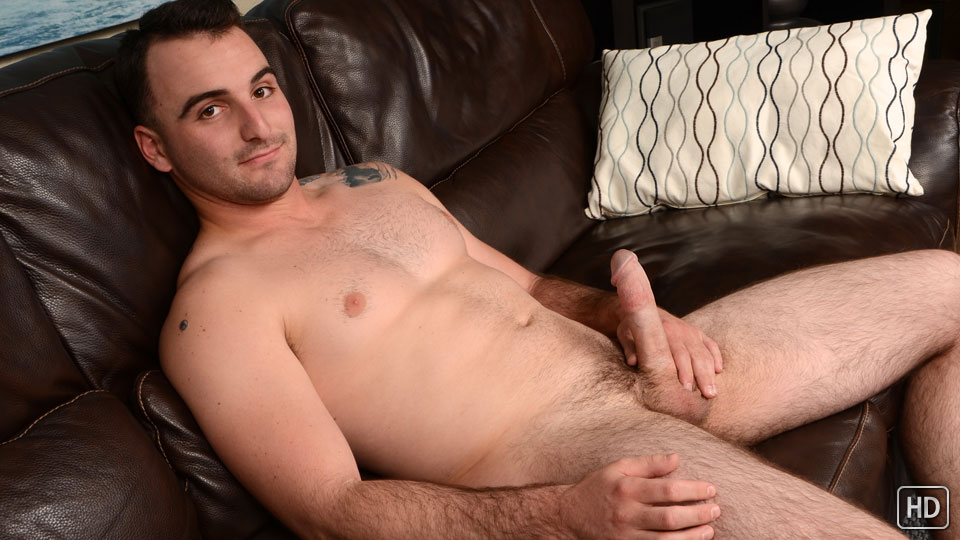 Watch the full scene:
Join Now!
Tom's a 22 y/o Marine who'd been talking with a buddy about making some extra cash doing porn. It wasn't a long-time fantasy of his; it just came up in the past couple weeks, around the time he got in touch with me. By the time he came in for his first porn shoot, though, he'd told 3 or 4 other guys who wanted to know if they could come, too!
When his clothes came off, Tom's muscular chest was the first thing to catch my eye. And then I noticed how fast he got hard, and stayed hard. He admitted with a laugh that he was getting a boner when we were in the office just filling out his paperwork.
And that hairy ass? Amazing.
Tom really wanted to make a good first impression. I had told him that hairy guys are pretty popular on the site, so it was actually his idea to wait a week to try and let his body hair grow in. (It's still kinda short, but I was surprised at how much grew in after just a week.) He also stopped his daily jerk-off routine a solid four days ahead of time to make sure he had an extra big load. And, wow, did he!
When Tom lay back on the couch, he stepped up his stroking and shut his eyes. He let out a deep breath, "I'm gonna fucking cum," followed shortly by, "Oh, it's gonna be so big."
Within seconds, stream after stream erupted from Tom's cock, leaving his stomach and chest coated in sperm.
Tags: Big Cumshot, Hairy, Muscular