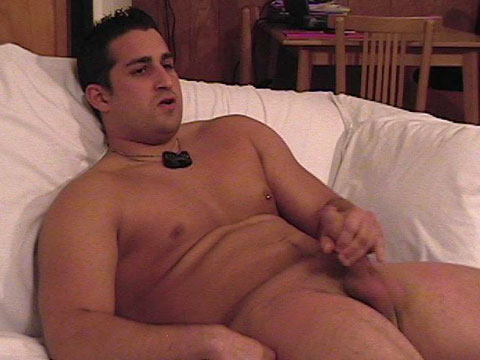 Watch the full scene:
Join Now!
Kevin's a 22y/o str8 guy who's living here in San Diego. He's always wanted to get into porn, so when I approached him about making a video, he jumped at the chance.
He's a big beefy guy and tells me he loves working out. "Yeah, I lift about 5 days-a-week." I asked him what he benches. "About 260lbs."
This was a first time for both of us: Kevin's first time being filmed, and he's the very first guy I ever filmed. I was probably about as nervous as he was! Still, it was fun watching him get hard pretty much the moment his pants droppped. He didn't flinch at all when I moved in to measure his dick, and looking back I think he was up for more than just jerking off. Too bad he moved away right after this shoot.
I love how "into it" Kevin gets as he's gettin' close to nutting. "I'm gonna cum pretty soon..." He gasps and shoots a big load onto his stomach.
Tags: Stocky/Husky