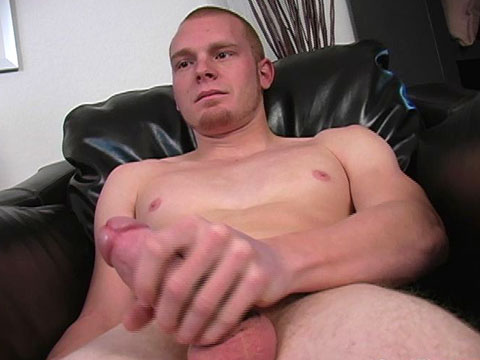 Watch the full scene:
Join Now!
Tristan's a 25y/o str8 guy who just moved to San Diego from Las Vegas where he was a correctional officer. These days he's a bouncer at one of the big clubs downtown where he likes to ''interact'' with the female clientele. The rest of the time he's into dirt-biking, learning to surf, and shooting. Shooting? "Yeah, I used to compete up in Nevada."
He's a redhead... like, really red, with the matching ''fire crotch'' pubes set on a tight body and a nice thick cock. He's a str8 guy and says he lost his virginity to one of his sister's friends in high school. Apparently sister wasn't too happy about that.
We talk for a few minutes then he strips down, gets his cock hard and puts on a show, ending with a puddle of cum all over his pubes and stomach.
Tags: Redhead/Ginger