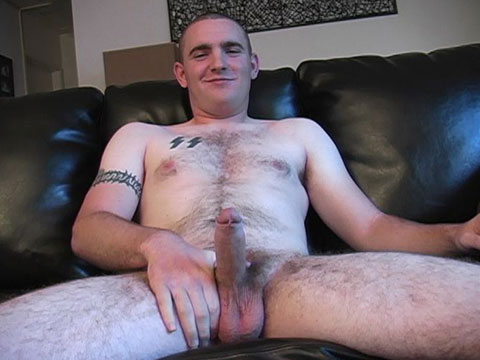 Watch the full scene:
Join Now!
Rob is a 22y/o married str8 guy. He didn't exactly want to say where he works, but said the shaved head probably gives it away. That, and he was about to go on a long trip overseas, "touring desert after desert."
"So, your wife is pretty cool with you doing porn?"
"Yeah, she's fine with it. As long as she gets some of the money."
Rob is uncut and not shy about showing off his cock. He has a couple girlfriends on the side (he and the wife have an open relationship) who are pornstars, so I guess they've had some influence on him.
I like Rob's furry body and when he asked if I wanted him to shave I told him NO WAY. He's really vocal when he cums and gets all into it, squirting out onto the tattoo on his stomach.
(Speaking tattoos, Rob wanted to assure me that the one on his chest has something to do with his job and, as he put it, "Not what you think it means.")