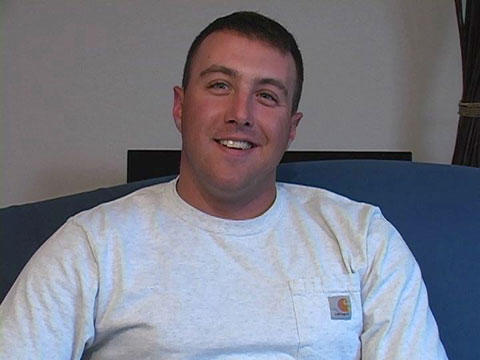 Watch the full scene:
Join Now!
"I'm pretty much a country boy. I like to ride horses, ride dirt bikes, play in the mud."
Nick grew up in a small town back east and came out to California with the Marines. He's one corn-fed dude I wouldn't mind playing around in the mud with!
Nick is stocky 5'9" and has a deep manly voice that'll make ya weak in the knees. When he showed up for the shoot and jumped out of his mega-truck, the first thing I noticed was his eyes. They're incredibly sexy.
This is Nick's first time doing a video shoot and he was ready with a raging hard-on in a matter of seconds after taking his pants off. And the cumshot... WOW! So far the only guy on the site to hit his face!
Tags: Big Cumshot, Stocky/Husky