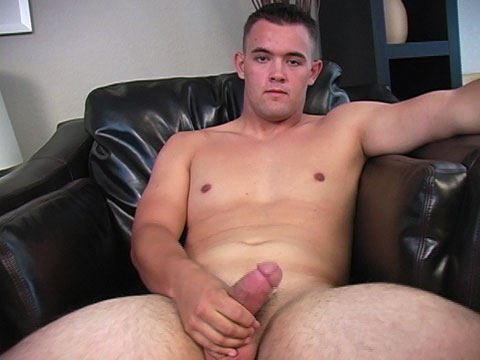 Watch the full scene:
Join Now!
Hunter is a beefy 20y/o str8 guy from Nebraska who made his way out to San Diego with the Marines. He played football all through middle and high school, and even a year in college before enlisting in the Military.
He said he's been thinking about doing porn for a while and almost auditioned with another company in Las Vegas when he was there partying with some buddies. So when I met him and mentioned what I do he was really interested. I was certainly interested in seeing some more of him and thought you would be, too!
I love Hunter's thick cock. It's well-matched with his big legs and broad shoulders. His cool demeanor is really sexy and it's obvious he likes showing off for the camera. What's hot is after he blows his load, he keeps pumping away trying to shoot another one out.
Although Hunter is str8, he seemed like a guy who might be up for some on-camera experimentation so keep your eyes peeled for that!
Tags: Stocky/Husky