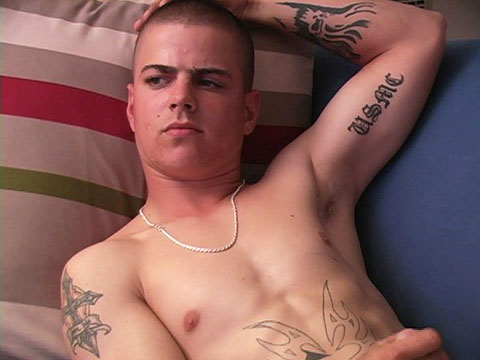 Watch the full scene:
Join Now!
Alan just turned 19y/o and has a larger-than-life personality. He showed up unexpectedly alongside his Marine buddy who was scheduled to come over for a shoot (you'll see that Marine's video in the next couple weeks). That's one of the "unique" things about military dudes-- they often travel around in little packs and sometimes I never know how many are gonna be there when I answer the door.
Alan grew up in the midwest and spent a good part of his life as a wrestler, and even was All-American champ for few years running. After coming out to San Diego, he's discovered a wilder life. He and a couple friends ended up on a porn bus a few times (a str8 one), and after hearing from his buddy that he could make some cash jerking off on camera, decided to come along for the ride.
Measuring in at 5'8" he wanted it known that "big things come in little packages." He does have a thick cock on his tight frame. And the 2 days worth of cum he had stored up shot all the way up his chest!