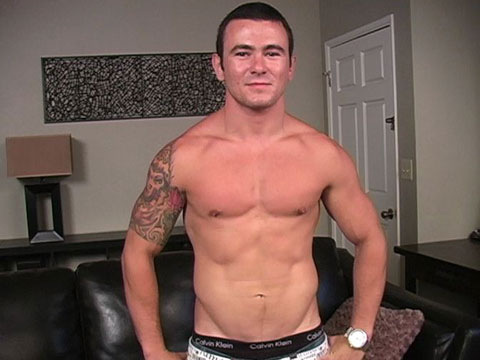 Watch the full scene:
Join Now!
Thiago (pron. Chee-AH-go) is a 24y/o Brazilian exchange student soaking up the So Cal lifestyle. For him, this mostly involves two main things: getting ripped at the gym and chasing girls.
I met him one night out at a bar down by the beach where all the str8 dudes like to party and hang out. His sexuality and confidence made him stand out in the crowd, so I gave him my "How'd you like to do porn?" line. He was all for it.
He's a hell of a powerhouse; only 5'8", but rock solid muscle. And for you fans of the uncut cock, Thiago's sportin' foreskin.
Thiago's cumshot is amazing! He shoots all the way up his chest and there seems to be no end to the cum that keeps spewing out even after he's stopped jerking his dick.