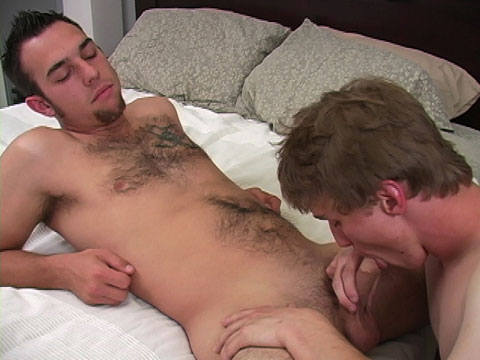 Watch the full scene:
Join Now!
When James was in the Navy, he had gotten a blowjob once from a sailor buddy after a long night of drinking. He didn't remember much of it, and said he might be up for trying it again on camera (and sober this time).
Enter Ryan. He's a cute 21y/o gay college student who jumped at the chance to do the honors. Ryan told me he's "into str8 guys" so it seemed like a perfect match.
Normally, the new guys do a solo video first, but Ryan was so excited to get in James' pants that we just skipped it. It's kind of hot to watch him a little nervous and giddy about being on camera for the first time, but so eager to suck some cock. He had James hard and grinning with satisfaction from the very start.
Ryan asked James how he was doing.
"You're doing great. Way better than my girlfriend!"
James ends up straddling Ryan and blows a 3-day load all over his chest and neck. Then Ryan leans back on James and shoots a massive load that flies all the way over his head and blasts James right on his shoulder!
Tags: Oral, Big Cumshot, Hairy, Blond