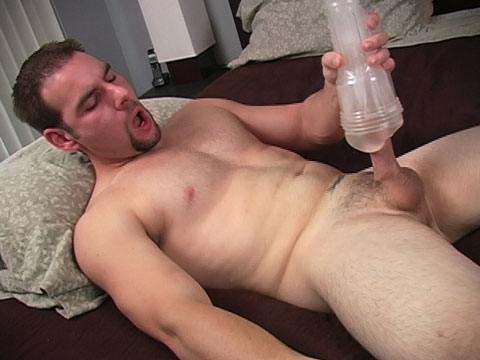 Watch the full scene:
Join Now!
Matt and I were talking after his last shoot and it turned out he had never used a sex toy before. He'd never even heard of a Fleshlight. When he came back over and got ahold of one, it was clear he was pretty excited to dive on in to it.
"Man, this shit feels so real! I'm gonna have to give this a shot."
From the moment he lubed up and shoved his cock inside, it seemed like he had been using one for years. The gasps and moans gave him away, though, and you can tell it brought jacking off to a new level for him.
Matt blew a really big load last time and he took it as a challenge to outdo himself this time around. He said he was going to "save up" a little longer. What he didn't say was that it was going to be for two weeks!
The intensity bulit and built as Matt got more wrapped up in jacking off. By the end he's covered in sweat and has one of the biggest and most intense, vocal orgasms you'll find on the whole site. The cum shot in every direction, clear off the side of the bed!
Tags: Fleshlight, Big Cumshot, Hairy, Muscular