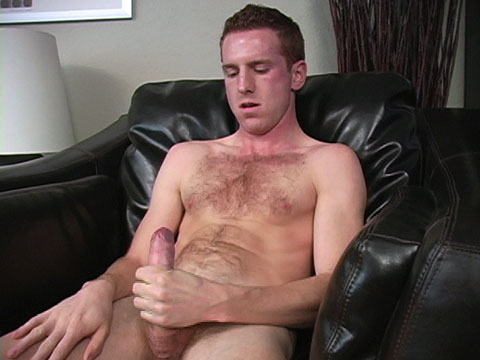 Watch the full scene:
Join Now!
Andrew is a college student who was visiting San Diego during spring break. He's been thinking about getting into porn for a while, so a friend of his suggested that he get in touch since he was going to be in the neighborhood.
He was a little reserved when we first met so I was surprised to hear that he has a bit of wild streak:
"A friend invited me over to a party," he explained with a grin. "It ended up turning into a massive gangbang/orgy. It was a lot of fun"
I love Andrew's furry chest. A lot of members request more hairy guys, redheads, and uncut guys. Andrew falls squarely into all three of those categories. Plus, he's not hurting in the dick size department.
He was a little nervous for his first time being on camera, but pulls off a good show. When Andrew is about to bust he really let's it all go. His whole upper body turns red and his head rolls back with a loud moan just before dropping a load all over his firey pubes.
Tags: Redhead/Ginger, Hairy, Uncut