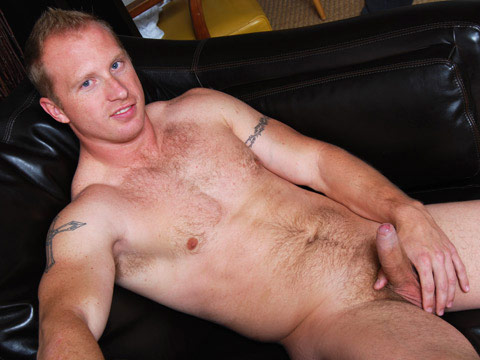 Watch the full scene:
Join Now!
Dylan came to San Diego from a small southern town when he enlisted with the Marines. He's 28 y/o, straight, and one beefy dude.
Since getting out of the military he's gone through a whole list of different sports:
"I gotta stay active," he says with his sexy southern drawl. "I did three years of boxing, then kick-boxing, MMA, then started playing semi-pro football."
Dylan's muscular chest looks especially hot with the dusting of blonde hair. I was really happy to see that his pubes were almost completely natural and has a thick uncut cock with plenty of foreskin that he takes full advantage of while jacking off.
For his first time in front of the camera, Dylan seems to know how to turn it on and enjoy the moment. As he gets close to busting, his whole body tenses up as a stream of cum oozes down the side of his cock.