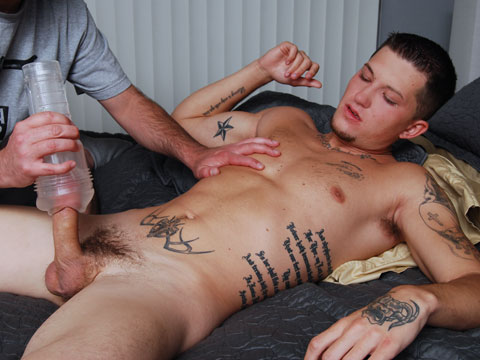 Watch the full scene:
Join Now!
Jacob is a pretty open-minded straight guy and wasn't too hung up on the idea of getting jerked off. But at the same time, like most of the guys, he was worried that he wasn't going to be able to get off so he had saved up a couple days.
He was definitely ready to go. His dick was rock hard pretty much right out of the gate. The extra saving up almost back-fired and there were some really close calls where he busts too soon. Even got some leakage early on in the video.
I pulled out the FleshLight and teased the head of his cock. As it slid down the shaft, he let out a gasp. This only pushed him closer to the edge and his body twitched as he fights back the urge to cum.
After nearly busting twice, I worked the tip of Jacob's cock, releasing a well-earned load that dripped down the side of my hand.
Given the close calls, there were a few out-takes during the shoot and I've cut two versions of the scene. For those of you who prefer not to see those, there's the "normal" version. The "Director's Cut" has an extra couple minutes or so with the out-takes.
Tags: Helping Hand, Fleshlight