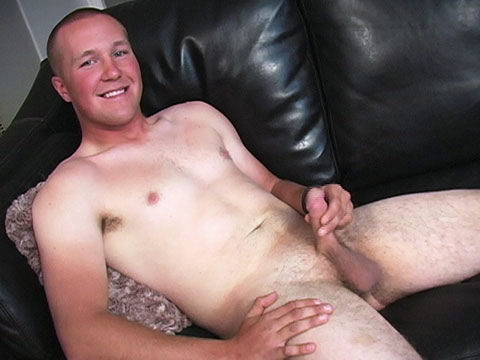 Watch the full scene:
Join Now!
Jeff is a 19 y/o straight guy from the midwest and a recent transplant to San Diego thanks to the military.
It was Jeff's blue eyes and ruddy cheeks that first caught my attention. I've always been a sucker for that. When I approached him online to see what he thought about being in porn, it was only a few hours later that my phone rang and heard a surprisingly deep voice for such a young guy.
I asked what he thought about being in his first shoot:
"I wasn't really sure about it at first," he shrugs and admits. "But then I thought, 'You've only got one life to live.' Might as well live it."
Being a newbie, Jeff was a little on the nervous side at first. But as things move on, he starts having a little fun with it and plays to the camera. Always is hot to see that transition as the inner exhibitionist comes out.
Jeff told me that he delivers a pretty powerful cumshot and he thought he might hit himself in the face. He didn't quite shoot that far this time, but left a big pool of cum all over his stomach and chest that he rubs his fingers in and sticks into his mouth for a taste.
Tags: Big Cumshot, Blond