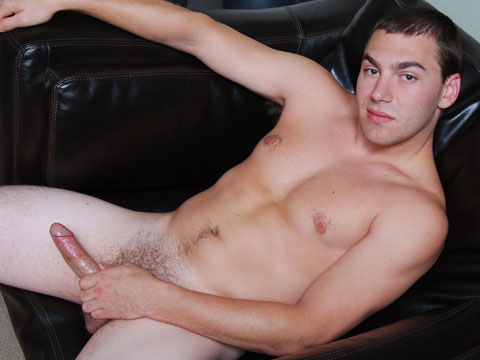 Watch the full scene:
Join Now!
Emmett just recently moved to San Diego from the east coast where, he says, all of his friends thought that he was too easy-going.
At 24, he's played most of the hard-hitting sports: football, wrestling, lacrosse, rugby. He summed it up pretty nicely:
"If I could hit it, I'd play it."
Being new in town and needing some cash (and, of course, being the easy-going guy) he thought he'd give a shot at porn.
But something tells me there might be an exhibitionist streak in Emmett, too. From the moment he walked in the door he was tearing off his clothes. And once he did, his dick was already standing at half mast. I love that!
He certainly likes to play to the camera and wasn't shy about anything. Including showing off the muscular ass that he built up in his years playing rugby.
Emmett was so horned up that he thought he might be able to blow two loads. But his first was SO intense that one was definitely enough to satisfy any of us. He shot a giant rope of cum that left his stomach and legs covered in a sticky mess. It's one of the hottest cumshots I've seen in a while.