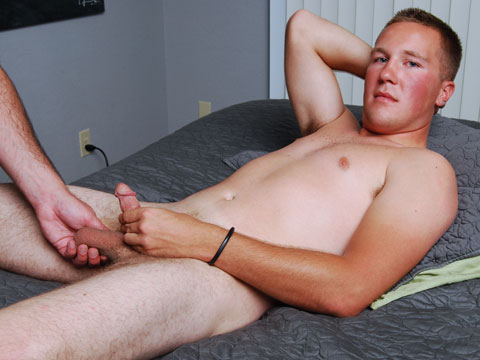 Watch the full scene:
Join Now!
Apparently, word has gotten around about Jeff shedding his clothes for the world to see. To his benefit, it got the attention of some stripper girls who thought it was hot.
Jeff wasn't quite ready to make the leap into getting a handjob or blowjob on camera just yet. But said he might be up for something a little "experimental" as he put it.
While he was jacking off, his balls were looking pretty tempting so I reached out to give them a tug.
A minute later, Jeff's cock started leaking pre-cum. I reached up and rubbed it onto the head of his dick. To my surprise, he let out a quiet gasp: "Oh, yeah."
Finishing off, Jeff shoots a big load all over his stomach while I was massaging his balls. He scooped up some of his cum and licked his fingers clean. But he had dripped a little dab onto his chin that I wiped off and fed to him.
After this shoot, something tells me Jeff might be ready to take it to the next level. Keep your fingers crossed.
Tags: Blond