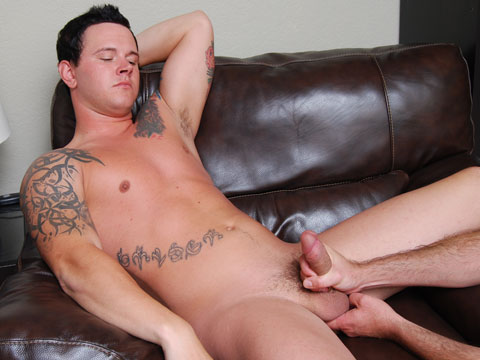 Watch the full scene:
Join Now!
Riley's done all sorts of stuff stripping for the ladies. He was nervous, though, way nervous for his first time with a guy. With a wad of cash in front of him, he decided to go into uncharted territories.
Maybe it was the porn playing in the background, but something told me Riley was kind of enjoying having a guy's hand on his cock. His dick was hard right out of the gate. As I started stroking him, he was paying less and less attention to what was playing on the TV and more and more to his shaft getting stroked.
Riley was pretty quiet for most of the shoot. But as they say, "Hard dicks don't lie." When he was bent over to get his ass played with, I could feel his cock swelling up even more.
Riley wasn't sure he would be able to get off with a guy, but he definitely came through with a money shot to brag about. As I worked him up to busting, stream after stream of cum shot out leaving him covered in a sticky mess from the neck down.
Tags: Helping Hand, Big Cumshot