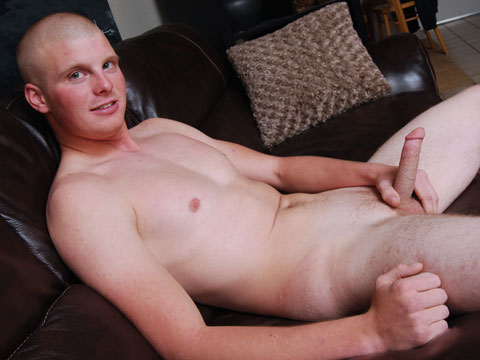 Watch the full scene:
Join Now!
Glenn is a transplant from the Boston area, making his way to San Diego courtesy of the Marine Corps. He's a tall, lean 20 y/o with blue eyes, blond hair (when it hasn't been shaved off by his buddies... story in the video) and rosy cheeks that drive me nuts.
Glenn found out about making some cash whacking off on camera from a friend of his I had contacted. Although the other guy wasn't so sure about it, Glenn was completely gung-ho.
In fact, he was maybe a little too fired up and ended up busting a nut a little earlier than he expected. Guess it snuck up on him. Or I've just got good porn?
Either way, it was no problem. Glenn took a 15 minute break, got his dick hard again and shot a second load all over his stomach!
Tags: Blond