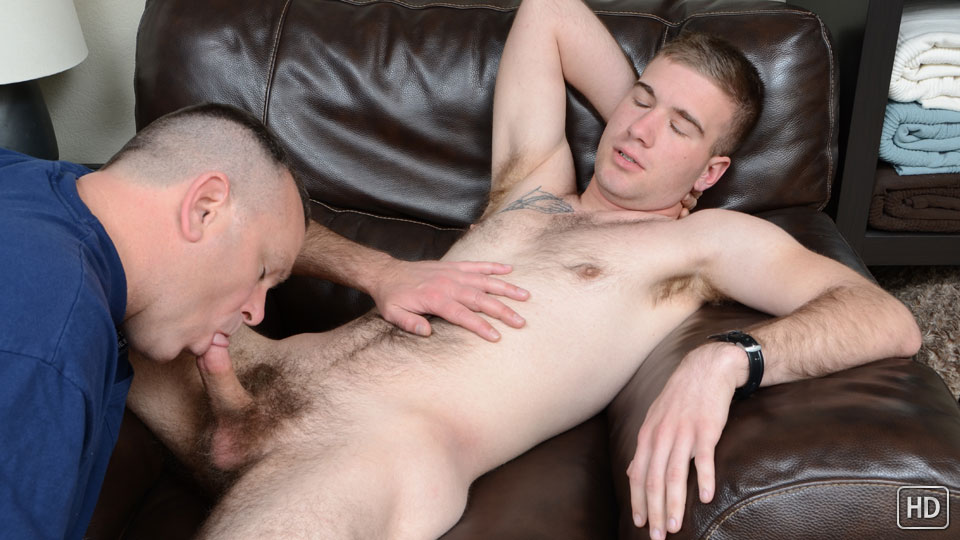 Watch the full scene:
Join Now!
Lance, like most of the guys on the site, had never done anything with another guy before; his massage scene being the first time. I'm pretty sure money was the deciding factor to come back for a bj, but after shooting this scene I'm convinced he went home having satisfied a kernel of curiosity about getting his dick sucked by a guy.
To be sure, Lance was definitely horny when he set foot in the door. That was obvious when the cameras started rolling and his cock was already tenting through his jeans. Once I had my mouth wrapped around his throbbing shaft, things heated up quickly.
Lance immediately grabbed the back of my head to set the rhythm. What might have been a surprise to both of us was when I pushed his legs back and stuck my tongue up his hairy ass crack. Lance's head rolled back in sheer ecstasy.
After getting Lance on his knees to treat him to more rimming, he stood up, giving him all the control to fuck my face. Porn playing in the background? He couldn't have cared less judging by the expression on his face as he crammed his cock down my throat.
Lance had told me that he likes blowjobs, but there haven't been many girls who can bring him over the edge. I definitely like a challenge. It took some work, I'll admit, but by the end Lance was so built up that I was barely able to pull off before creamy cum was lining his furry stomach.