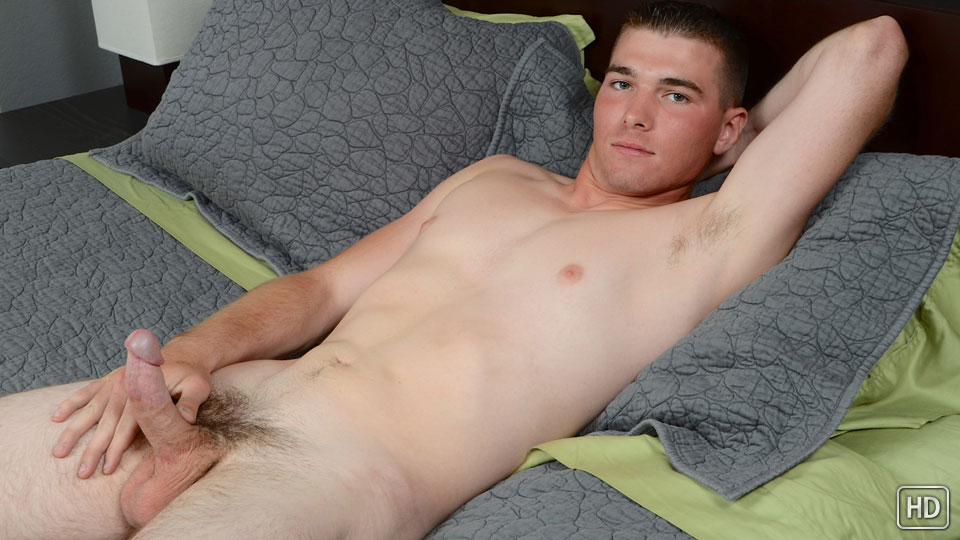 Watch the full scene:
Join Now!
Randy was a little unsure about doing porn at first, but since his best friend and fellow Marine Sean recently took the plunge, he figured maybe he'd give it a try. Marine buddies can get pretty competitive with each other and, lucky for us, this seems to apply to their porn shoots, as well! I'm not sure who did "better" though, since both guys are sexy as hell. I'll let you guys be the judge.
Randy must've wanted to outdo his buddy and shoot a bigger load 'cause he showed up with a 6-day load in him! And this from a guy who jerks off 2-3 times a day, even beating his meat in a Starbucks bathroom once.
This 19 y/o Marine's body is sick: tight abs, with a happy trail leading down to low-hanging balls and a meaty dick that got super hard and stayed that way the whole time. Randy wrestled, played football, and ran track and field, and it shows on every ripped muscle of his 5'9, 150 pound frame.
Randy oozes confidence. You can tell by the way he stared at the camera with a mischievous smile as he stroked his cock. But seriously, who wouldn't be confident with that beautiful piece of meat and those hairy runner's legs?
I loved watching his abs and his chest flex as he stroked his cock. Then he turned around, giving us an ample peek at his hairy crack as he continued to jerk his throbbing dick. He kept that ass up in the air for a good long time, definitely not shy about showing it off.
Randy turned back around and sped up his stroke. His breathing grew heavy. It was time for him to release that 6-day load.
"I'm getting close," he drawled as he tightened his grip.
The look on Randy's face was so intense as he shot a thick, creamy load all over his rock hard abs and happy trail. Guess that's what happens when you save up your load for a week.
I guess it's your move now, Sean.