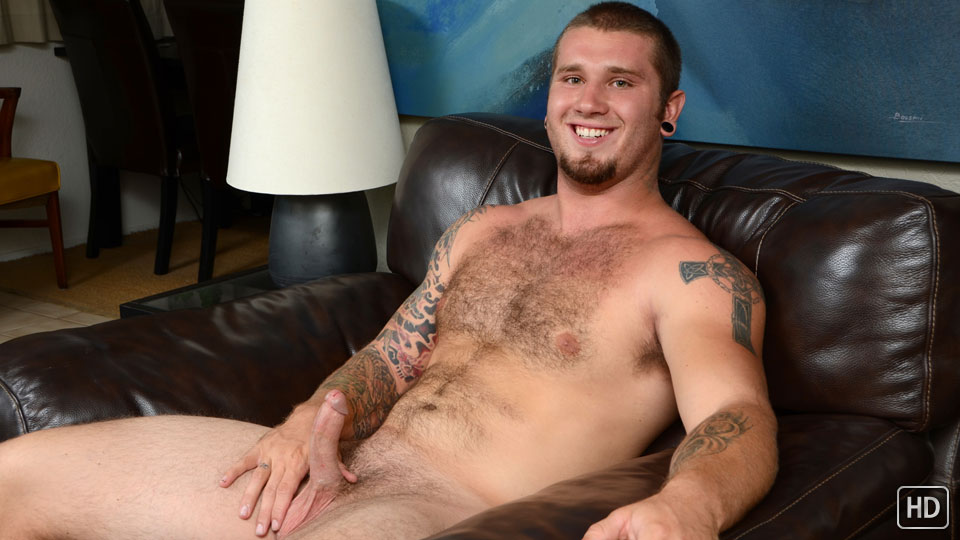 Watch the full scene:
Join Now!
Preston first contacted me about two years ago. I guess he was nervous about doing porn because it took him that long to finally get in front of my camera. Or maybe this big bear of a guy was just hibernating all that time.
If, like me, you love a big rugged man, then get ready 'cause this former high school football player is a fantasy come to life. 21 years old. 6 feet tall. 225 pounds. This guy is a beast with the smile of a boy.
While he may have been a little nervous at first, Preston warmed up pretty quickly once we got started. He was already hard when he took his clothes off, and revealed his colossal, hairy body. Everything about this dude is huge: his biceps, his legs, his size 12 feet, his broad shoulders. I could go on, but I'll let you see for yourself.
Preston started out by kicking back on the leather chair and stroking his beautiful piece of meat. Then he stood up, his body towering over the camera. But I think the highlight of the video came when he turned around and gave us a peek at his ass as he continued to stroke his stiff cock. This is an ass for the books: smooth and muscular with a hairy crack. Didn't hurt that he has some big low-hanging balls as well.
When it came time to give us his load, Preston sprawled himself out, massive legs dangling off the side of the chair, and stroked himself faster and faster.
"I'm gonna cum," he gasped before shooting a thick stream of jizz all over his hairy chest and stomach.
You might need to watch this cum shot twice: once to focus on his cock spewing cum, and once more to watch his enormous forearms flex as he tightens the grip on his rock hard boner. I'm hoping Preston doesn't hibernate for another two years before getting back in front of our cameras!
Tags: Hairy, Muscular, Stocky/Husky