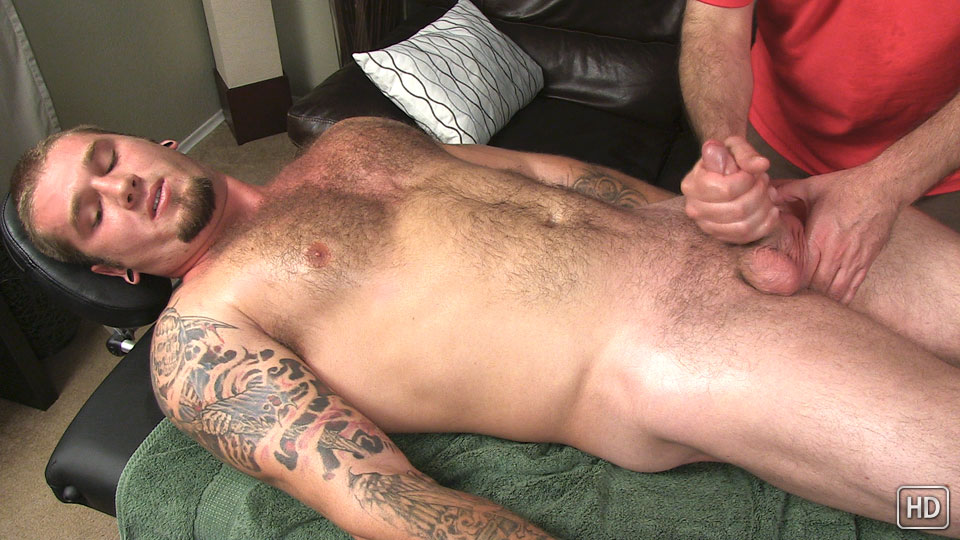 Watch the full scene:
Join Now!
It took two years for Preston to bare his beefy, hairy bod to the world, so I wasn't expecting him to come back for a massage scene so soon. He was nervous and, like most of the straight guys, unsure whether he could get off with the help of another guy. But lucky for us, he needed the cash and was willing to blur some boundaries.
It's kind of hot seeing such a burly beast of a guy get so nervous. He must also have been a little excited, though, since his cock was already at half-mast when he took his towel off.
There are times when I realize what a lucky guy I am. Getting Preston face down on my massage table was one of them. This 21-year old is just a perfect slab of beef, with 225 pounds of muscle for me to massage. Thick hairy legs and a juicy ass. Yeah, my job is kind of tough sometimes. (wink)
And when he flipped over, I still had the other half to enjoy! I could've spent days just massaging this dude's thick, hairy chest, but then I'd be ignoring his massive legs and his cock, and I couldn't do that.
By the time I started giving some special attention to his dick, Preston was throbbing and leaking pre-cum which mixed in with the massage oil to give my stroking some extra lubrication. Damn, if he hadn't been so nervous, I would've been bolder and just started sucking that pole. He kept his eyes closed as I stroked him faster and cupped his balls to feel the load building in there.
"I'm getting close," he moaned, and after a few seconds he gasped, "I'm gonna cum."
Preston spurted a warm load of jizz all over his hairy stomach. I kept stroking him after he came, enjoying the warmth of it in my hand. When we were done, he didn't seem all that nervous anymore. He flashed his million-dollar smile and admitted that he'd be back to see us again. I should be so lucky!
Tags: Hairy, Muscular, Stocky/Husky, Massage