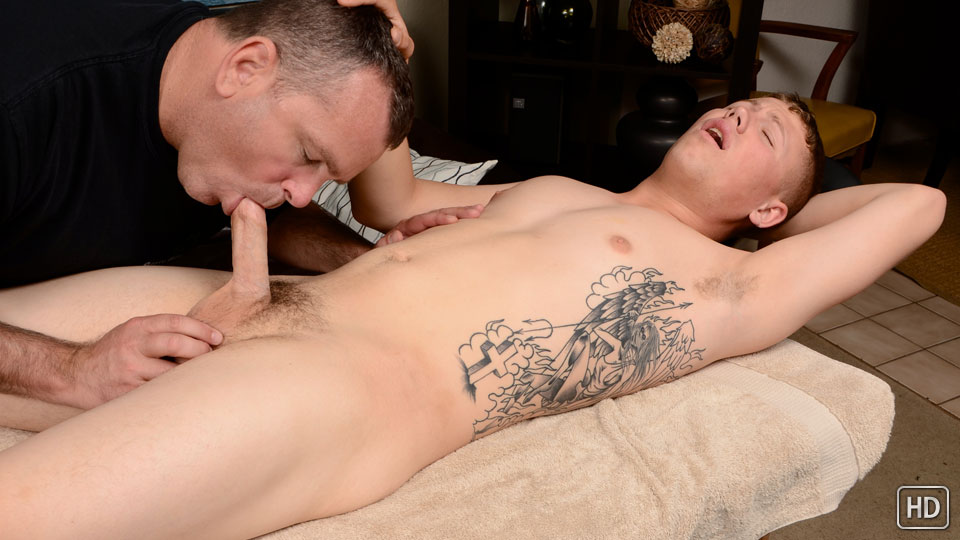 Watch the full scene:
Join Now!
Sean and his best buddy Randy love to one-up each other. Once Randy found out Sean had done porn, he came by to shoot his first scene recently, so it was Sean's turn to do him one better. And so Sean decided to take the plunge into a new frontier: getting his first massage from another dude. Sean had been to a few massage parlors before this shoot, but he had never gotten a happy ending massage.
I laid Sean on his stomach and rubbed the massage oil all over his smooth back, working my way down to his fuzzy bubble butt. Then I oiled up his ass and slipped a finger in and out of his hairy hole, making sure I spread his cheeks so you could get a nice view of it.
I shifted my attention to his thick legs for a moment, but I couldn't resist getting back to his ass, this time exploring it with my tongue instead of my finger.
Sean flipped over and I got to work on his chest and stomach, and watched as his dick quickly perked up. That thing got pretty big, almost reaching to his belly button. Having already licked his ass, I figured I had to balance things out by tasting that thick cock as well. He agreed to a massage, and a blow job is just a massage with your mouth instead of your hands, right?
Sean was already getting close to cumming and we had to stop for a minute or he was going to bust too soon. "How long do I have to wait before I can blow?" he asked with a laugh.
Once I heard that, I sped up my work, using my hand to stroke him as I continued to suck. When I snuck a finger back into his hole, he thrust his ass up and down into the air to let me know he liked it, as if the explosion of creamy cum wasn't enough to clue me in. After nearly squirming off the side of the table, Sean gave the experience two big thumbs up.
Can't wait to see what Randy does next to outdo his bro!