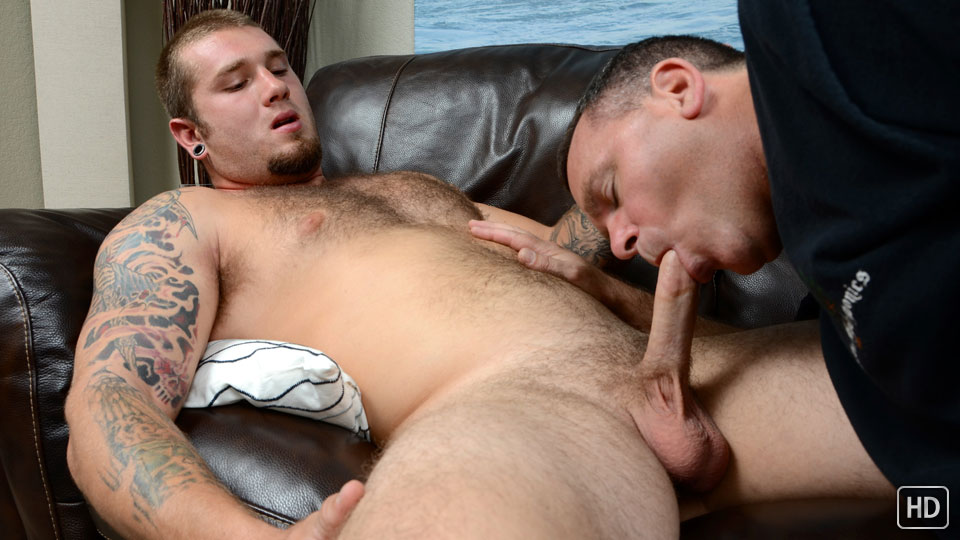 Watch the full scene:
Join Now!
After Preston had taken the step to jerking off (and getting jerked off by) his buddy, Dakota, I was certain that he had reached his limit. But, luckily, this burly fur ball decided to go one step further and get his cock sucked by a guy for the first time.
Preston showed up in his workout clothes on the way to the gym. Even though he was quiet and clearly nervous as the cameras started, the bulge showing through his gym shorts told the truth -- he was horny and his cock was throbbing hard.
For the first minute when I had his cock in my mouth, I don't think he knew quite what to think. He glanced back and forth from the DVD playing in the background, to the show that was going on right in front of him. Eventually, Preston's head rolled back, he closed his eyes and started enjoying the ride.
Preston looked a little surprised when I lifted up his legs and started licking his ass, but the expression on his face quickly changed as his mouth dropped open in ecstasy. I couldn't resist flipping him over to his knees to get full access to his hot hole.
He stood up then, grabbing the back of my head with both hands, started fucking my mouth, thrusting his cock down my throat. By this point, I could tell Preston was starting to hold back the nut waiting to get released from his low-hangin' balls.
And I was right. He lay on the couch as I worked to finish him off. Preston got that "far away" look in his eyes and out of nowhere gasped, "Oh, fuck!" shooting a thick white load right into my mouth and onto his stomach.
Preston had told me that he'd never been able to get off from a blowjob before, so I think it came as a real surprise to him how quickly it snuck up on him. Another happy customer!
Tags: Oral, Hairy, Muscular, Stocky/Husky