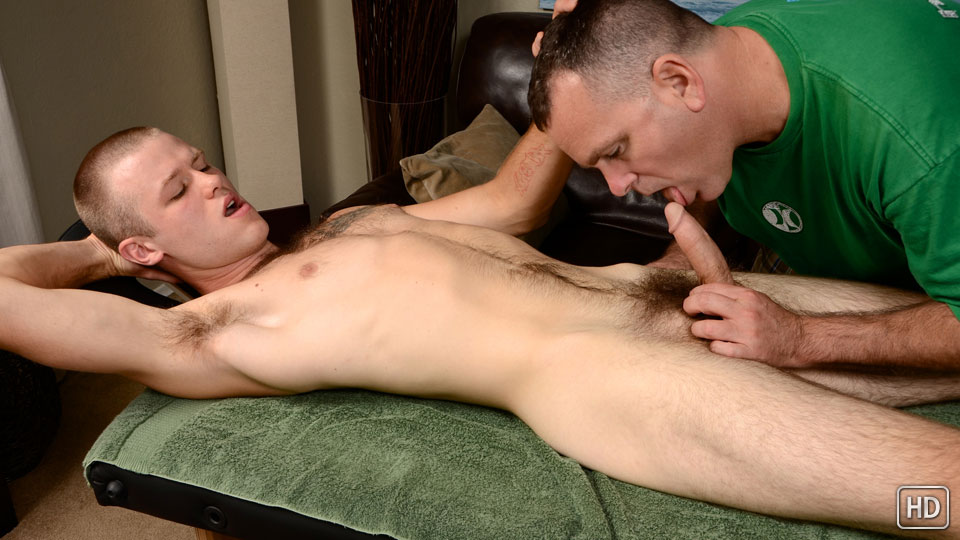 Watch the full scene:
Join Now!
I have to admit, I was excited to get Cy on the massage table to give his bod a thorough rub-down. Apparently, Cy was, too. He saved up a 2-day load for it!
Cy had gotten a massage before from a girlfriend which, he said, just turned into sex. And once from a guy, but, "just a regular one. Nothing sexual happened." When I asked him how he was feeling about getting his first happy-ending massage from a guy, Cy smiled broadly, saying he was "pumped up."
Laying face down, I oiled up Cy's back, slowly migrating toward his hairy ass. When I pulled his cock from under him it was already starting to get hard. I lubed up a finger and slipped it into his hole, causing Cy to let out a deep moan while his dick swelled up even more. Using my tongue, his moaning got even deeper as I rimmed his furry ass.
Cy flipped over and as my hands moved over his chest his hard-on got stiffer and stiffer. I licked the tip and a shiver ran through his body, tacitly giving me the go-ahead to suck his cock. He grabbed the back of my head, setting the rhythm as he got closer to cumming.
A finger up Cy's ass pushed him over the edge and a thick stream of cum erupted, running down my hand and onto his pubes. I went back down and sucked the last bit off the tip of his shaft, making Cy's whole body shake. Even Cy wanted a taste; I held my hand up to his mouth he licked the cum right off my finger.