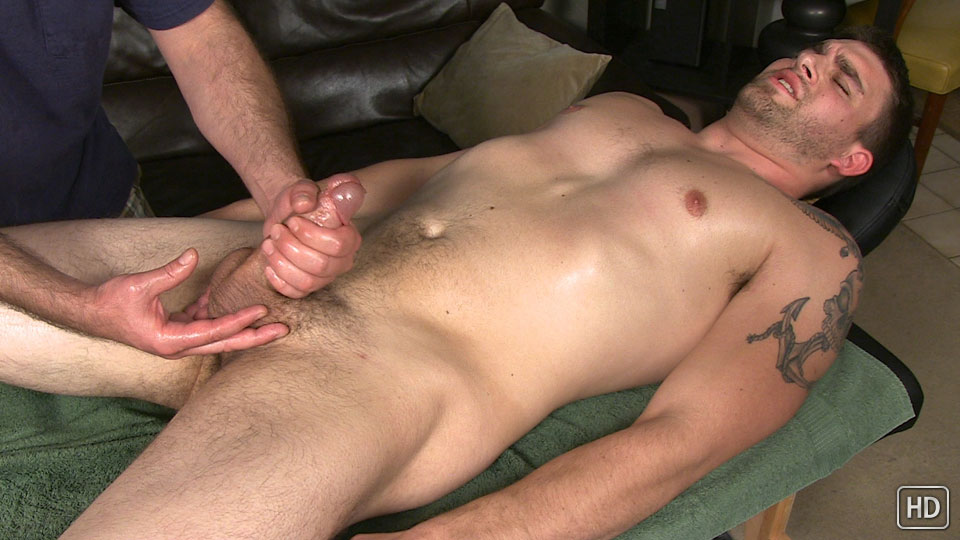 Watch the full scene:
Join Now!
Lee is no stranger to happy-ending massages. While stationed in Japan with the Marines, he took advantage of the "local talent" known for their erotic rub downs and full service baths. Knowing this, I asked if he'd want to get one on camera. From a guy, of course.
His first response was "no" right off the bat. Lee had never done anything sexual with a guy before and, like most of the str8 guys, didn't think he'd even be able to get hard, let alone cum.
It took a few weeks for the idea to sink in and a sudden need for cash when the phone call came that he was ready to give it a shot.
Even though Lee said he wasn't nervous, his body language was telling a different story. It took a couple minutes before he relaxed enough to go to his happy space and enjoy the experience. Right around the time his dick was pulled between his legs and started getting rubbed, coincidentally. (wink)
When it was the front side's turn to get some attention, Lee's cock was getting hard with the slightest touch. I started out slowly stroking him, thinking it might push him over the edge if I wasn't too careful. Lee's breathing deepened and he shut his eyes, so I quickened the pace, using both hands wrapped around his solid cock.
The build-up to Lee's cumshot was so intense. Finally, while his whole body tensed up, Lee let out one final gasp, "I'm going to cum. Right… now…" Streams of cum covered his stomach, even surprising Lee at how much he had shot.
Tags: Massage