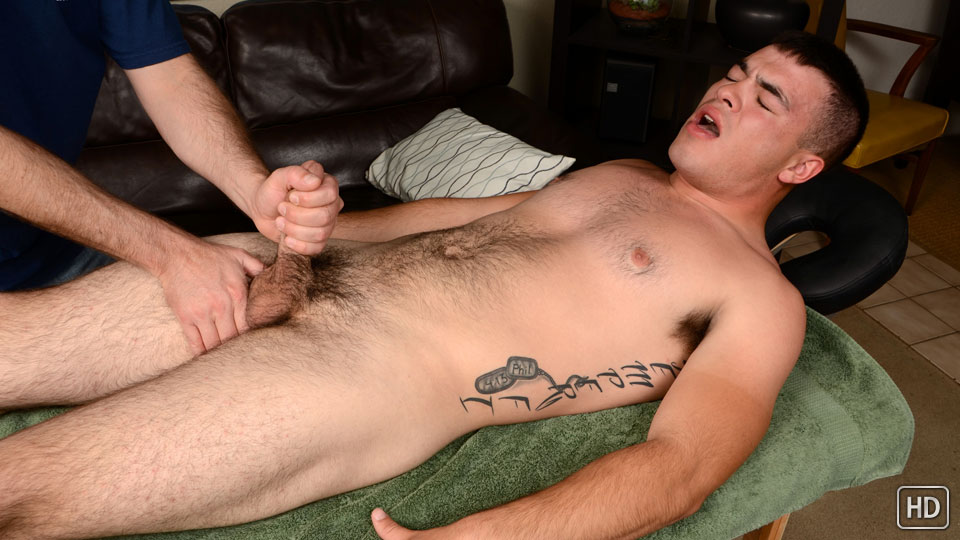 Watch the full scene:
Join Now!
Nevin is back and I couldn't be more excited. I had my doubts that we'd see this furry str8 Marine again. When I pitched him about doing a massage video, I thought that was it; scared him off. Luckily, his best friend talked him into it. He even drove him to the shoot! (You'll be meeting Nevin's buddy soon.)
Okay, so Nevin's never gotten a happy-ending massage before, and was extra nervous about his first experience with a guy. Or so he said. By the time the cameras were turned on, Nevin was pitchin' a tent from beneath his towel. I think he was just a teensy little bit excited about it.
With his ass up, I oiled up his back and went to work with my eye (and hands) focused on his hairy crack. I spread Nevin's legs and pulled his rigid cock from between them while rubbing his tight hole. It's a little slice of heaven down there!
Nevin flipped over and as I slowly massaged his torso, his cock grew to full attention as my hands grazed by, just teasing him a little. Whatever he was thinking about, he'd gone to his happy space and was clearly enjoying the ride.
It took some work to get him to cum, but I was determined! With two hands wrapped around his cock, Nevin's body began clenching up. I moved one hand between his legs to grab his balls and finger his ass. Out of nowhere, Nevin's thick load was streaming down the side of my hand.
How'd Nevin rate his first happy-ending massage? Two thumbs up!