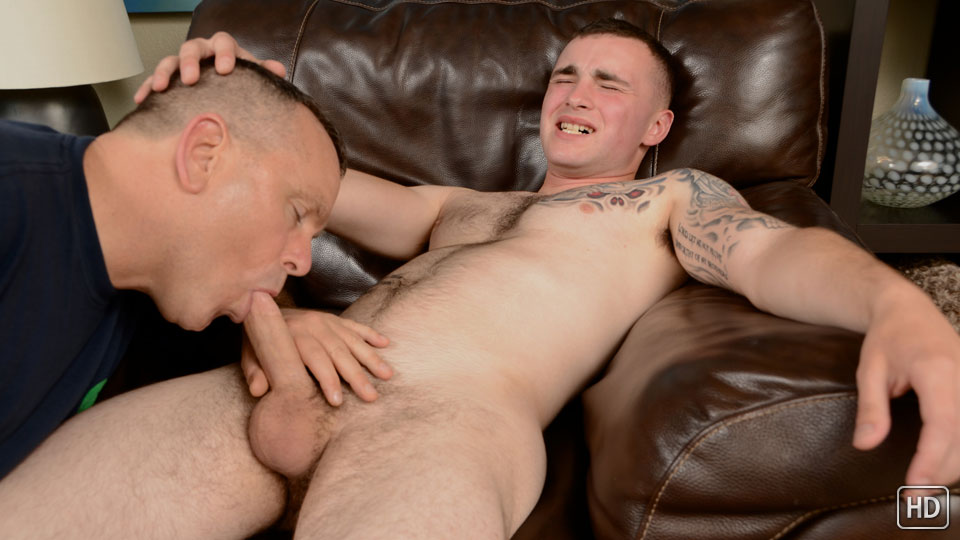 Watch the full scene:
Join Now!
After his massage video, Baird seemed ready to roll with getting another blowjob. When he showed up, though, the reality of it must have set in because he was about as nervous as I've seen. Ever.
At least that's what his body language was saying. His dick, on the other hand, was telling a completely different story. From the moment the cameras were fired up, I could see the tent he was pitching behind his cargo shorts. By the time his clothes were off and my mouth was wrapped around him, Baird looked like he was trying hard to not to cum too soon.
Remembering how turned on he got by having his furry ass played with, I pushed his legs back and buried my tongue in his hole. Baird tried to remain stone-faced, but his throbbing cock betrayed him. This str8 Marine's ass was begging for attention.
After sucking on Baird's cock for a few more minutes, it was clear that his cumshot was on the way. As I worked him up to the edge, Baird's balls tightened up and he rolled his head back, just before one last gasp announcing, "It's coming…" Thick beads of cum pulsed out of his cock and ran down my hand.