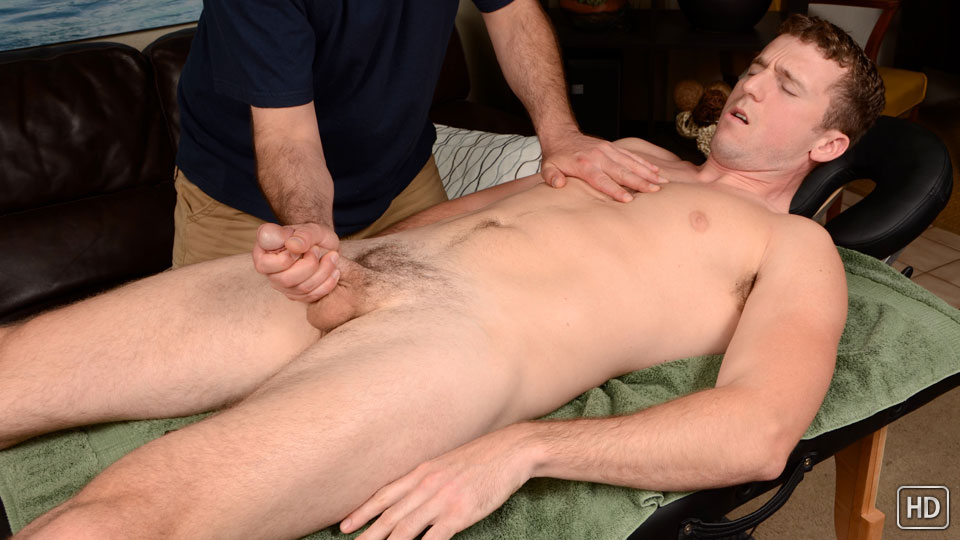 Watch the full scene:
Join Now!
After his last shoot, I asked Glen about doing a massage video. It took a couple weeks to get a reply, so I wondered if getting jerked off last time had scared him off.
"That was pretty interesting," he said with a laugh as he sat on the massage table. "But here I am!"
Apparently, Glen was ready (practically brimming) to get his first happy-ending massage. Glen's only time getting a massage before this was a "regular one" he got while stationed overseas in Japan.
As I started rubbing down Glen's back, there seemed to be some tension, though. Some residual nerves, I imagined. When I reached between his legs and pulled his dick between them, it started swelling up, but not in full force.
By the time he flipped over he was semi-hard. I figured the best kick-start to getting the show going was to give his cock a warm mouth around it. That certainly did the trick, and Glen was rock hard in a matter of seconds!
I noticed that Glen played with his nipples a few times during his solo, so I reached up and gave them a light pinch while ramping him up to the grand finale.
It took some work to get him there, but between his flushing cheeks and the tightening of his balls, I knew his creamy white prize was imminent. In the end, Glen's body tensed up as cum poured out onto his leg.