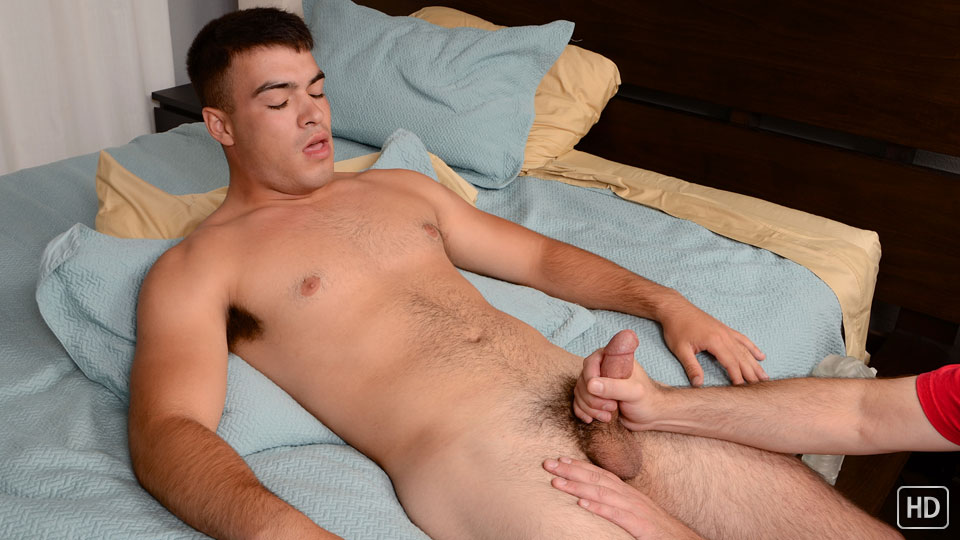 Watch the full scene:
Join Now!
I'd been hoping to get sexy str8 Marine, Nevin, back. This time he came extra prepared; he hadn't jerked off for a full week and was ready to bust pretty much as soon as I had my hands on his cock.
After peeling off his clothes, Nevin lay back on the bed with a raging hard-on while I slowly stroked him. A couple minutes into the shoot, I saw him staring off at the landscape photograph on the opposite wall, so I asked him what he was thinking about.
"Rocks," he said with a smirk. "I have to concentrate or I'm gonna cum too soon."
I gave him a little bit of a break and had him jump up onto all fours to give his hot furry ass some attention. I tried slipping a finger up his hole, but, damn, it was tight. What I didn't notice until I started editing the video was how much Nevin's cock perked up when the tip of my finger was just inside him.
Just to make things interesting, I pulled out a FleshLight. If anything was going to make it harder for Nevin to control his cumshot, I knew it'd be that. A shiver ran through his entire body when I slid it down his shaft. And then, after a few tugs, pulled it off and wrapped my lips around his cock.
After 15 minutes of tormenting Nevin and keeping him just on the edge, it was about time to give him the release he needed. With a few more strokes and some sucking, Nevin let out a series of deep gasps and unloaded all over my hand and his pubes.
Tags: Helping Hand, Fleshlight, Oral, Hairy