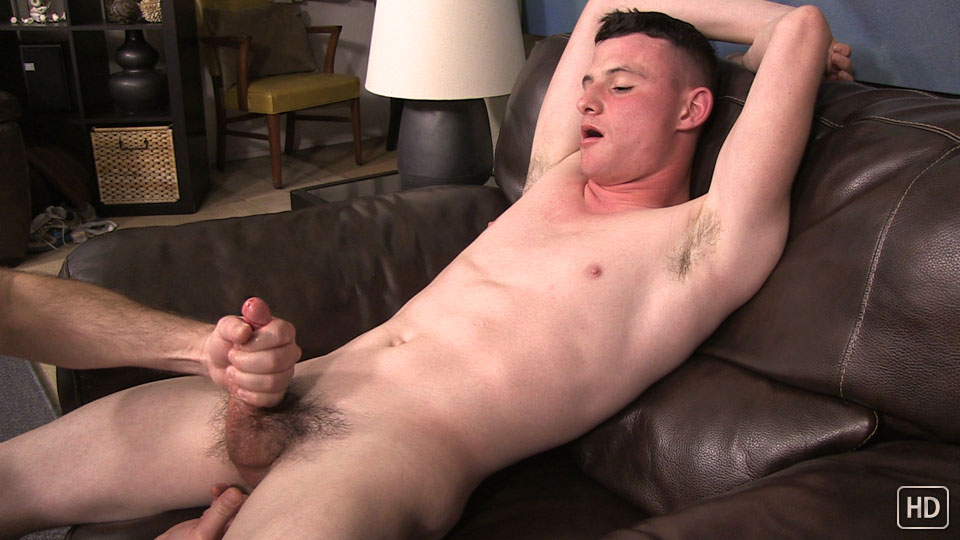 Watch the full scene:
Join Now!
Tory is a firecracker of a guy. He's a 21 y/o military transplant to San Diego and heard about me through a buddy who'd done a couple shoots for another porn site over in Hawaii. Tory was looking to make some cash, so he decided to get in touch.
Before he showed up, I could tell over the phone that Tory was a bit of flirt. He mentioned a couple times that he's mostly into girls, but lately had been exploring things with guys.
Even though he was super excited about his porn debut, he was a tad concerned that his dick wasn't going to cooperate. Watch carefully and you'll see the tent he's pitching behind his jeans so that he'll be hard by the time he takes them off. And it stayed that way from start to finish, even making a few "outtake-y" moments when Tory laughed at how much his dick liked the camera.
Hmmm. A horny, flirtatious, rock hard military guy wagging his dick in my face. How could I resist sampling the goods? When I reached up to give his cock a rub and a squeeze, Tory didn't seem to mind. In fact, he just raised his arms up behind his head and let out a quiet gasp of appreciation; a tiny bead of pre-cum leaking from the tip of his dick was like a welcome mat, inviting me to keep going.
After showing off his muscular runner's ass (and letting me cop a few feels with him bent over) I grabbed the lube to finish him off. Tory had gotten so excited about his first porn shoot that he'd jerked off earlier that morning. Usually not a good idea, but for a guy who jacks off 3-4 times a day it didn't pose much of a problem. Tory's body twitched as I stroked him closer to completion. When I slipped a finger between his ass cheeks and just inside his hole, I found the magic button! Within seconds, Tory moaned loudly as cum erupted from his cock.
Tags: Helping Hand