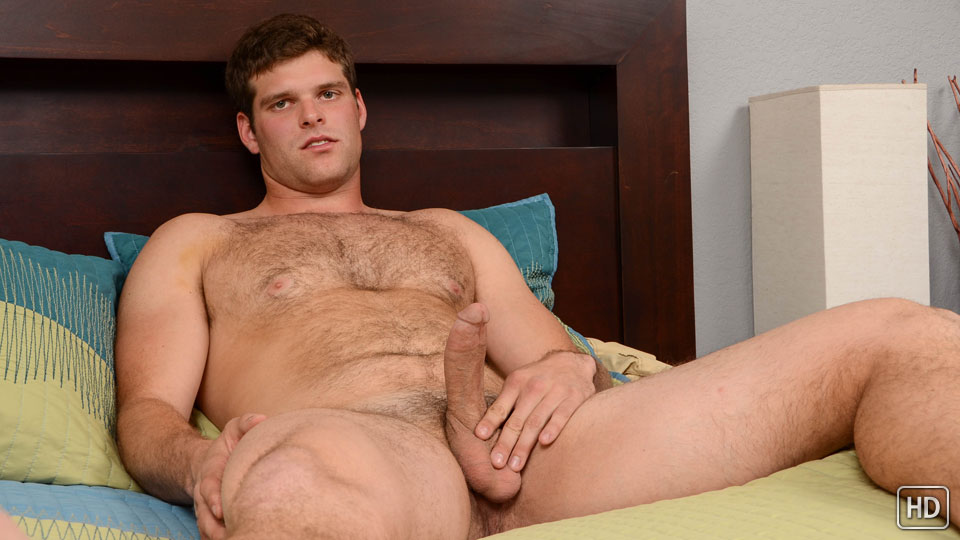 Watch the full scene:
Join Now!
I met Jake last summer at a BBQ that a friend was hosting who told me, "There will probably be a lot of military guys there." Knowing that, I brought an extra handful of cards, just in case. Jake was one of the guys I scoped out and made sure he got one, but it took him a while to work up the nerve to bare it all on camera.
Jake is 25 y/o, an outdoorsy type of guy, and said that doing porn is something he'd thought about for a while. The reason for the delay, he admitted, was partly nervousness, but also because he was afraid his girlfriend might find out about it.
At 6' 2", Jake is a big, cuddly bear cub. He had been hitting the gym and was going through a bulking phase-- nice n' thick for you fans of the bigger dudes. And hairy!
As the cameras fired up, Jake fidgeted his fingers, laughing nervously, or maybe excitedly, about his porn debut. Once his clothes came off, there was a minute before he hit his stride and you could almost see the switch flick on when he let his inner porn star loose.
Even though he has a gf, Jake still manages to rub one out daily. And even busted a nut the night before his shoot. It didn't seem to matter much, though. Jake's O-face as he got close to cumming is classic: pure ecstasy. And the virtual fountain that shot out of his cock left his stomach and chest splattered in jizz.
Tags: Hairy, Stocky/Husky