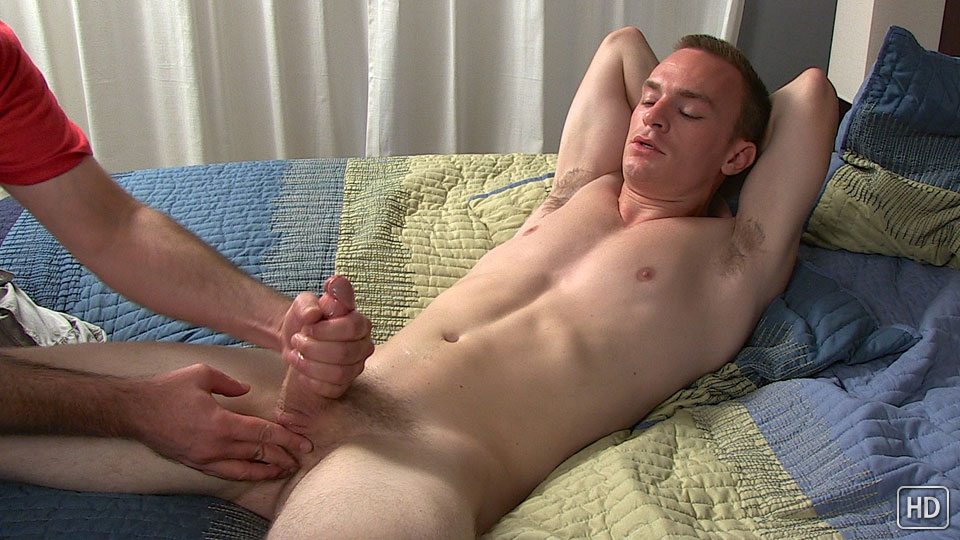 Watch the full scene:
Join Now!
Hank is a college guy. He just turned 22 y/o and got approached by a buddy of mine about doing porn from an online ad Hank had put up looking for girls. Hank figured "Why not?" when he found out he could make some quick cash.
I gotta admit, Hank was a difficult guy to figure out. He said he was str8, but "kind of curious" about guys. That much wasn't too confusing. What threw me off was how nervous he got as the cameras started up. We actually had to stop for a few minutes and then re-start.
But then he took his shorts off and had a full, ragin' boner. WTF? I think he was so nervous that the excitement of being nervous was turning him on!
Whatever was going on, I just couldn't resist pulling out the measuring tape at the end to test the waters. Not only did he calmly let me measure his cock, he almost seemed to encourage it, asking about the size. I saw that as a big green light to offer him a hand job.
Hank's big concern was that his friends might see this video. But it was a thought that dissolved about as quickly as it came up. I lubed up Hank's cock and within 60 seconds he was squirting cum all over his abs.
Tags: Helping Hand, Auditions