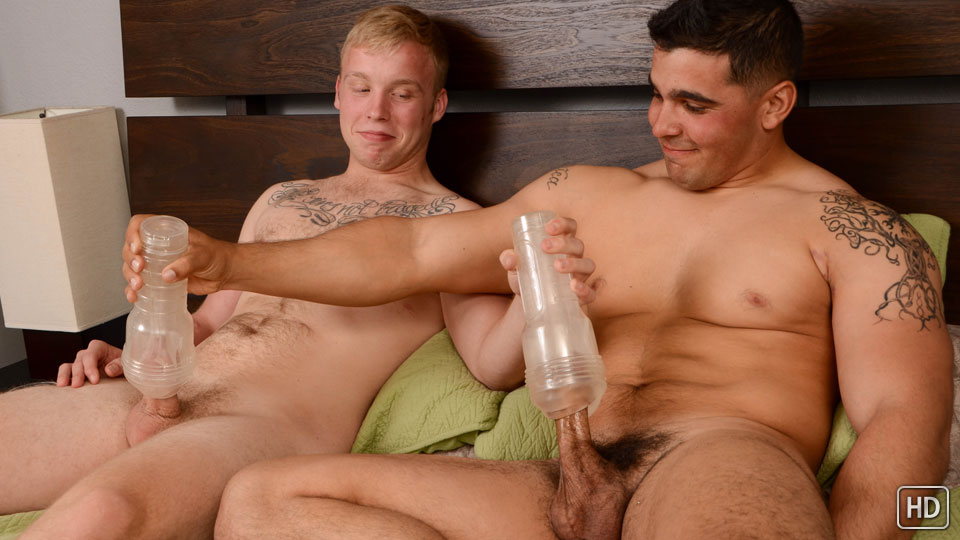 Watch the full scene:
Join Now!
You know those days when you have things planned out and one slight change ends up affecting everything else after that? This shoot was one of those days.
Colt was scheduled to come over. An hour or so before that, though, Hugh stopped by to pick up tax paperwork and, being an inexhaustibly horny guy, wanted to try out a sex toy. No complaints here (and even got a video clip of it up on Twitter).
Enter Colt. Since they were both here it seemed like a no-brainer to get them to do a side-by-side JO and see what would happen. After a lot of convincing and some long, awkward silences, they both agreed.
A pocket pussy toy had started things out with Hugh, so I pulled out one for Colt to try, too. The guys got to work on themselves. Colt was fired up and was rock hard as soon as his jeans came off. It took a minute for Hugh but, like ol' faithful, he was already set for round two.
There were a couple more awkward moments, but it was hard not to miss the glances they were sneaking at each other. I decided to try and up the ante and offered them some more cash to help each other out. Before long, Colt reached over, with Hugh following suit, and they started jerking each other off.
"Are you flexing your dick?" Colt laughed. "It feels like it's fighting back."
As they started working each other up to the grand finale, Colt finished first, shooting a thick load all over his stomach. Since Hugh had just busted a nut an hour earlier, it took him some time, but where there's a will, there's a way. His whole body clenched up as he pushed himself over the edge, squirting a massive load that shot right into his mouth!
Tags: Duo j/o, Fleshlight, Big Cumshot, Hairy, Blond, Muscular