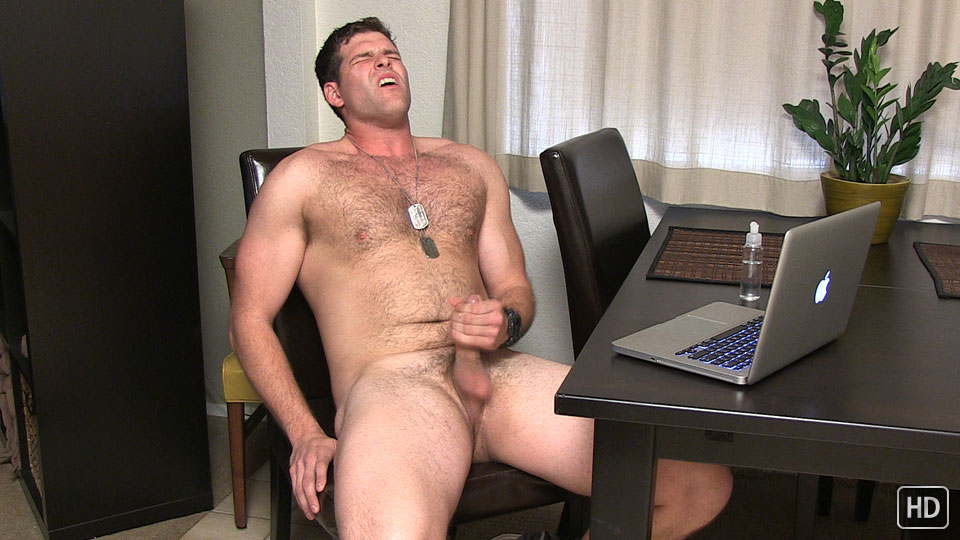 Watch the full scene:
Join Now!
Sometimes it's hard to tell what's really the motivating factor when the guys get in touch to ask about doing another shoot. Usually it's money. A lot of times the guys just get turned on by being in front of the camera and want another adrenaline dose.
In Jake's case, he got in touch (I'm pretty sure) because he was horny at work and wanted to bust a nut before going home to his GF. He works close enough to drop by without her getting suspicious. So, that's what happened-- Jake sent a text message and showed up, still in his cammies, ready to rub out a quick one.
I pressed the record buttons and let him get to business on his own. Even so, he glanced over his shoulder a few times, probably being used to the possibility of getting caught.
After peeling off his clothes and finding a few videos to watch, Jake was off like a mad dash to the finish line. Of course, I didn't see how things went until afterward, but from the looks on his face he was definitely enjoying himself, finally spraying jizz all over the place. Even landing a few dabs on his dog tags.
Tags: Hairy, Stocky/Husky, Qwicky