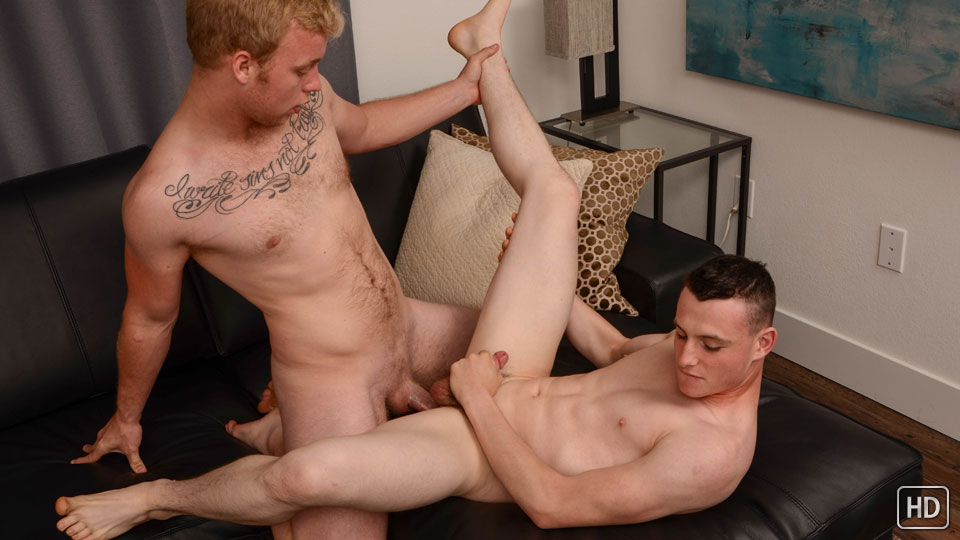 Watch the full scene:
Join Now!
Our first bareback scene!
After his massage video, when he tried a couple dildos, Tory said he wanted to try the real thing next. I had just the guy in mind for him: Hugh. He's got a thick dick and I had a feeling he'd jump in there and fuck Tory like a jackrabbit.
At first, Hugh was a little edgy about making this next step, but Tory's excitement was enough to put him at ease. And apparently enough to get Hugh fired up, too. When Tory pulled Hugh's shorts down, his dick was already hard!
Tory immediately started sucking him, wincing as he took it all the way down to the base, to the point that tears were running down his face. Not that it seemed to slow him down at all.
Hugh sat on the couch and guided Tory's ass onto his cock. Tory rode it like a champ, moaning in pleasure. But the fun really started when Hugh stood up and started going to town with Tory on his knees-- I was right about Hugh being a little fuck machine.
Tory rolled over onto his back. Seeing how much Tory was enjoying the ride, Hugh grabbed Tory's cock and started jerking him off while fucking him. It didn't take long before Tory busted onto his stomach with Hugh stroking him in rhythm with his dick plowing Tory's ass.
When Hugh's turn came, he stood up over Tory and shot one of his classic loads, spraying cum all the way up to Tory's face and drenching his entire torso.
Tags: Big Cumshot, Hairy, Blond, Anal