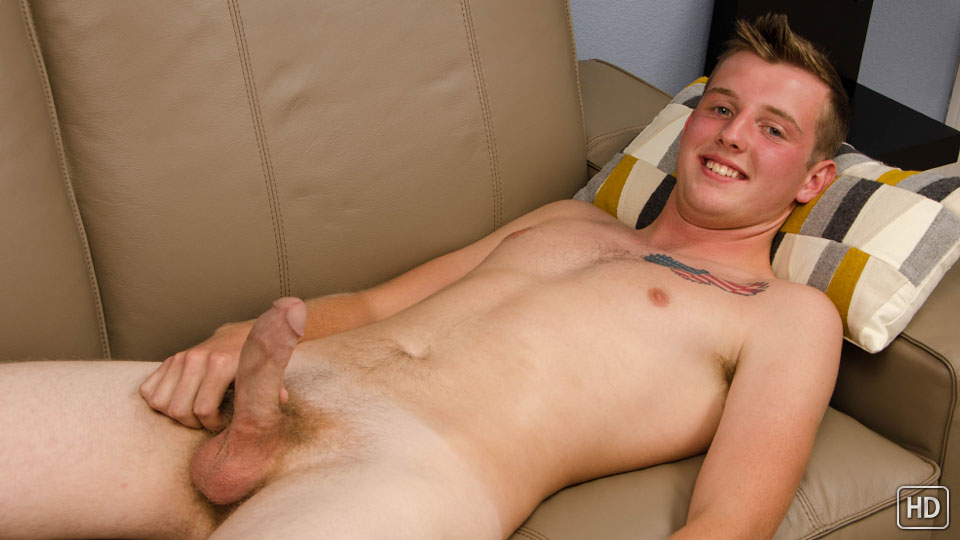 Watch the full scene:
Join Now!
Someone out there was doing some recruiting for me. 19 y/o Kenny heard about "this guy who shoots porn" (me) through one of his military buddies, jokingly telling him that he should do it. Kenny, apparently, didn't think it was all that bad of an idea.
Not that he wasn't nervous -- it took Kenny a minute to get in touch. After talking on the phone a couple times we decided to meet up in person so he could make sure things were legit. He hadn't planned on actually shooting that day, but decided to just go for it. Heck, he was already there, so why not?
Kenny was probably more turned on by the idea of getting naked than he realized he'd be. From the moment he pulled off his shorts, his dick was already stiffening, ready for its on-camera debut. Although Kenny was a little on the quiet side during the shoot, it seemed that he secretly was enjoying the attention and showing off.
Kenny's only had one "guy-guy" experience (as he called it) when he was a few years younger and a friend walked in on him jerking off. And then proceeded to join in! Kenny said they never talked about it after that, but it made me wonder if there was some curiosity about taking things further.
When cum time arrived, Kenny shut his eyes and relied on some fantasy in his head to bring himself to the grand finale. If he was quiet earlier, he made up for it at the end, saying a couple times under his breath that he was getting close and, at last, letting out a series of gasps as the cum puddled up on his ginger pubes.
Tags: Blond, Redhead/Ginger