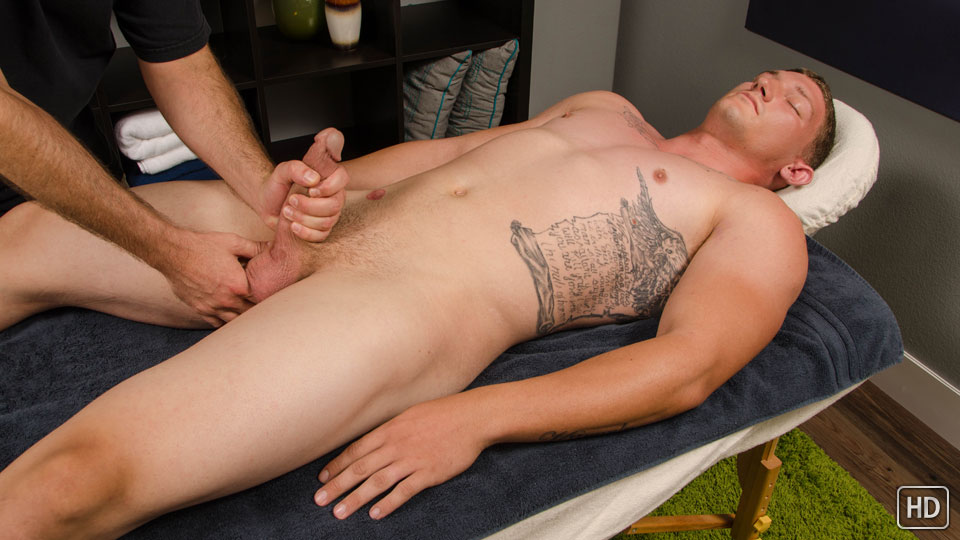 Watch the full scene:
Join Now!
Like a lot of the military dudes, Avery isn't a stranger to happy-ending massages. He'd gotten a few while deployed overseas.
The twist, of course, was that those were all from women, and this would be his first experience doing anything with another guy. So when I asked him about getting a massage here, he took a couple weeks to think it over. Cash seemed to end up being the thing that changed his mind, but I think there was at least a small part of him that wanted to test the waters.
When Avery showed up, he came across a little unsure or edgy, so we got to business pretty quickly. He'd mentioned that his legs were sore from his workout the day before which was the perfect excuse to spend some time rubbing them down along with his muscular ass. I wasn't sure how he'd react to getting his hole rubbed, but judging by how his dick started swelling up from between his legs, I'd say he liked it.
Avery flipped over to his back, still semi-hard. A few tugs and close passes of my hands was all that was needed to get him rock hard. It's times like those that I wish there was a way to tell what he was fantasizing about, laying there with his eyes closed. Whatever it was, it was working.
As the focus of the massage centered onto his cock, with both hands wrapped around the shaft, it looked like Avery was getting close to the edge-- his normally low-hanging balls were starting to tighten up. I picked up the pace of stroking him off, sliding one finger in between his ass cheeks. There wasn't much of a warning except the body language and facial expressions, Avery just quietly whispered, "Okay," and twitched as his thick cum ran down my hand.