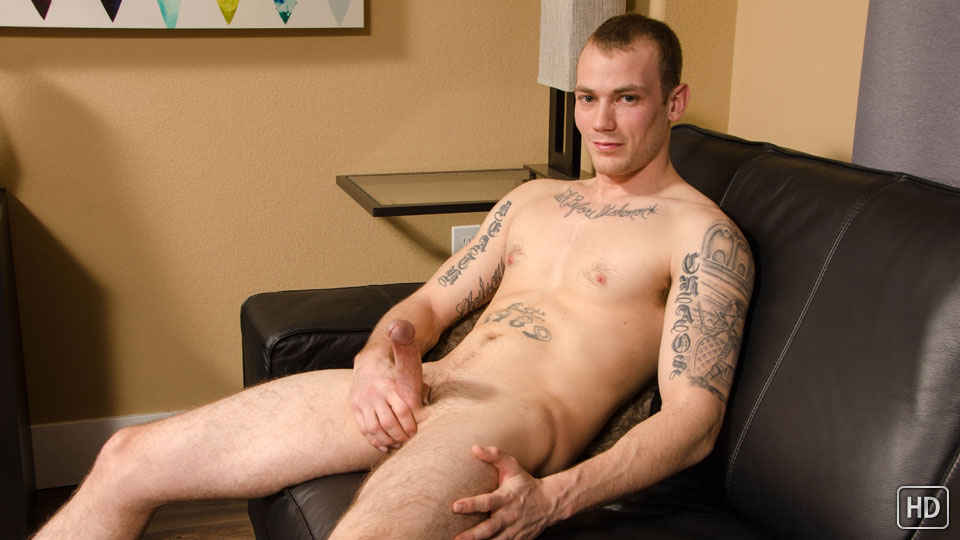 Watch the full scene:
Join Now!
Erik is a midwestern boy who joined the Marine Corps and found himself stationed in San Diego. After getting out a couple years ago, he decided to stick around town and invited his cousin, Leon, to move out with him. Erik had wanted to get into porn for years, and it was Leon who told him how to go about it which, of course, precipitated in both of them sending in applications.
Erik's a stoic guy who showed up on his Harley motorcycle and bearing a tough-guy, nervous shell that took a minute to get through. The thing that seemed to do the trick was to get him talking about girls and sex. He's a real horn-dog. So much so that he belongs to a "club" whose main purpose is to try and hook up with a different girl every night. Even before that, when he was in the Marines, he and a buddy had an ongoing competition to see who could jerk off on the most random walls, taking pictures of the cumshot as proof. The two of them rubbed one out together several times.
"Yeah, on deployment we'd break out the laptop, didn't matter if there was a fire-fight going on or not," he explained with a proud grin. "We'd just kick back and share the laptop."
It took a minute for Erik to get used to stroking his cock in front of the cameras, but warmed up to it pretty quickly. The realization that he was finally living his life-long dream of doing porn clicked and he started having a little fun showing off. Something told me that Leon had a hand in coaching him.
Erik wanted to leave behind a good impression (and a big cumshot) for his porn debut. He normally jerks off at least 3 or 4 times a day and saved up for two agonizing days. The outcome even seemed to surprise Erik, himself. He jumped up on his knees and worked himself up to quite a finish, leaving behind a pool of cum all over the couch.
Tags: Big Cumshot