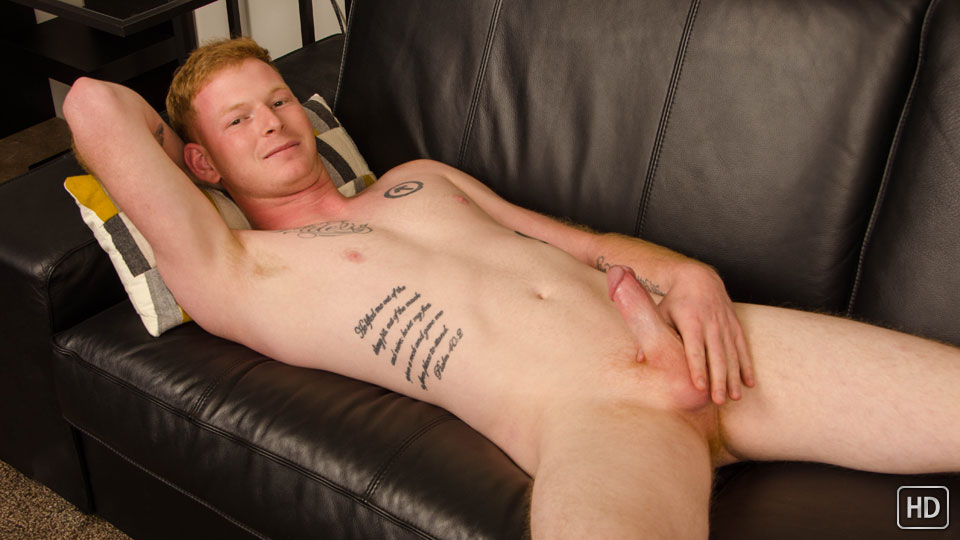 Watch the full scene:
Join Now!
Palmer is from a small Midwestern town, 21 y/o, and found his way out to San Diego a couple years ago for "college" (although the tat on his chest might make you think otherwise.)
He hadn't given much thought to doing porn until a buddy planted the seed a few months ago, telling Palmer that he'd made some cash jerking off on camera. Not being a shy one, Palmer got in touch one day, and the next day showed up ready to get naked for the world to see. Apparently, he'd anticipated doing a shoot because he took the initiative and stopped jerking off a week earlier! That's what I call dedication.
Being a ginger, Palmer gets teased by his buddies all the time about being a "day walker" and all the other pejoratives. He laughed it off, though, saying that a lot of girls (and guys) are turned on by a guy with red hair. The carpet matches the drapes, too, even if the carpet was a bit short; I strongly encouraged him to grow out his bush for next time.
Palmer first started jerking off at a pretty young age and seemed to take to it with fervor, once going at it 12 times in one day. He may not have kept up with that kind of schedule since then, but when he said he had 7 days of nut stored up I knew it was going to be a hell of a finish. He was convinced that he was going to hit himself in the face.
Palmer's nut sack pulled up so far that it all but disappeared as he got close to cumming. And, as he had warned me, his neck got flushed red. He didn't quite shoot as far as his face, but the high-flying shots only missed it by a couple inches, covering his chest in globs of jizz.
Tags: Big Cumshot, Redhead/Ginger