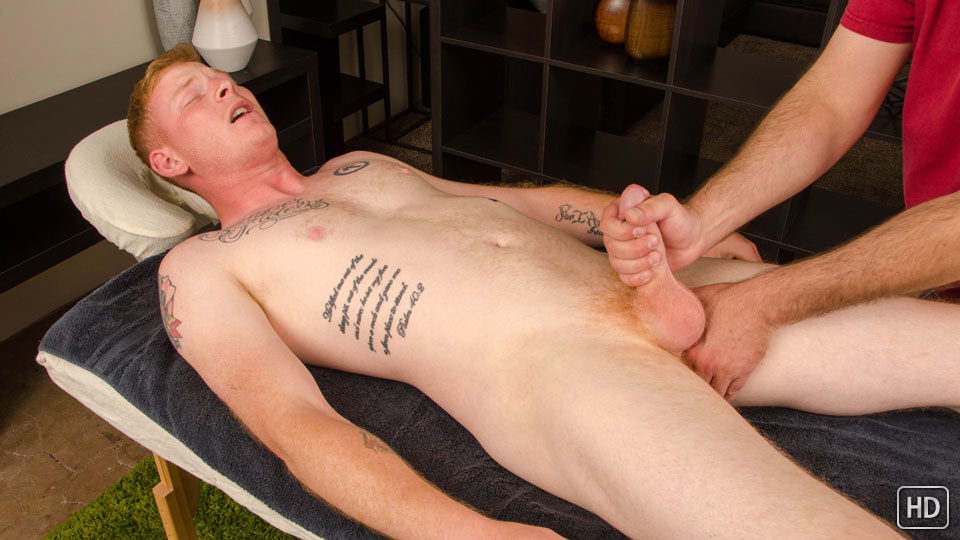 Watch the full scene:
Join Now!
When Palmer got in touch to see if he could do another shoot, the massage scene seemed like a no-brainer. He'd gone out and paid for happy-endings before and said he really liked them, but, of course, those were all with women.
When I told him that this one would be with a guy it took him a few weeks to commit. Since it was his first time doing anything with a dude, that gave him some pause. When he showed up I asked how he was feeling about it.
"I'm a little bit nervous," he replied with some hesitation, "because I don't really know how it's going to go."
Right from the start I'd say it went pretty well. There's a big question mark when it comes to rubbing a str8 guy's ass - sometimes they clench right up. Palmer was all for it. At least the throbbing cock between his legs was a good indication after my hands passed over his hole. When it looked like there was a green light down there, I spread his cheeks and buried my tongue between them.
Palmer's cock was rock hard when he flipped over onto his back. I took it nice and slow at first, making sure he didn't fire one off too quickly. When things looked safe, I started sucking on him and could feel his body clench up in response.
After teasing his red rocket for several minutes I had a good feeling what would make him explode. I gave his dick a good sucking and reached down to finger his ass. Palmer's nut sack was crawling up inside him before he barely whispered that he was about to cum. And, wow, did he! Streams of jizz flew up over his head, hitting him right in the eye.
Tags: Oral, Big Cumshot, Redhead/Ginger, Massage