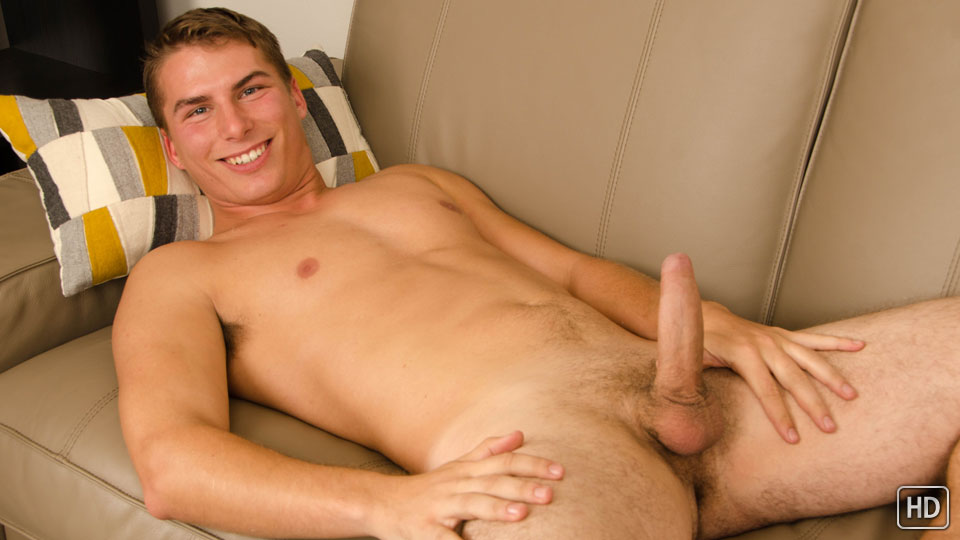 Watch the full scene:
Join Now!
Billy is a 22 y/o student at one of the local universities. On a whim, he decided that he should do porn. When we first met he seemed more fired-up than most of the guys I meet so I asked him why he wanted to get naked on camera.
"You know," he replied matter-of-factly, "I'm in college and you just have to do something crazy like this."
He described himself as being an adrenaline junkie: surfing, skating, and anything else he could do to get that rush. Billy said that he even surprised himself that he was taking this leap, though. As it would most of his friends; they don't know him as that guy who normally streaks the frat party, let alone the guy who jerks off for the world to see.
He did, however, put on an unanticipated jerk-off show at the nude beach for a random stranger once. Watch the full video to hear that hot little story.
Billy was motivated and wanted to do a good job for his porn debut. He usually jerks off 2-3 times a day, but saved up for, what he called, "a tough couple days." He put on a great show for the cameras, moaning and panting while jerking off and pulling back his foreskin to show off the throbbing head of his cock.
When cum time came, I have to say that this was one of the more intense finishes I'd seen in a while. It took Billy a few minutes to build himself up to the edge, so by the end he'd forgotten all about the porn playing in the background and was hammering away at his dick. At long last, he gave the word: "Fuck, yeah, I'm about to go." Billy's whole body spasmed for minutes as he spurted a load onto his stomach.