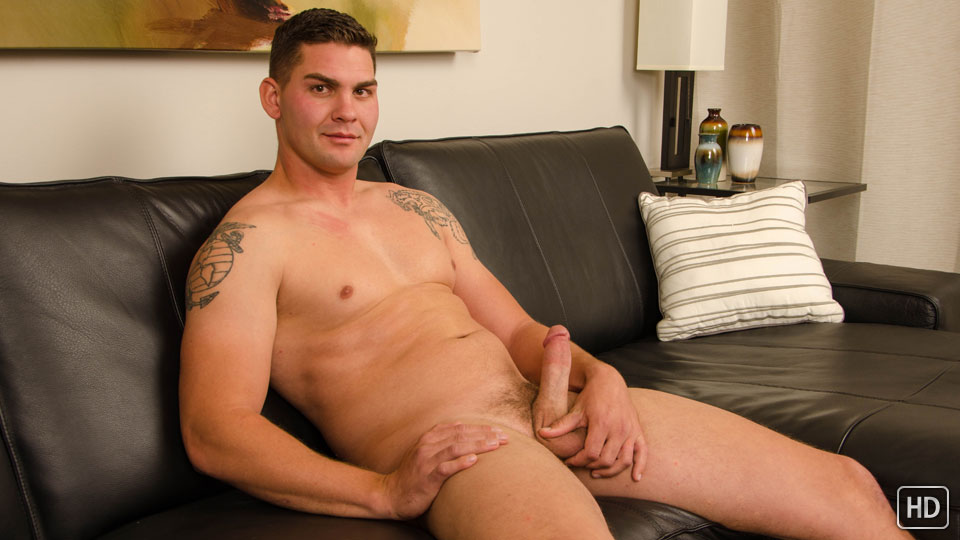 Watch the full scene:
Join Now!
I think meeting Bradley was a first for the site. There have been married guys come in, and there have been guys referred by fans. But not both at the same time. Bradley found out about the site from someone he'd met online, then asked his wife it would be okay to do a shoot. She (obviously) said yes, and even waited downstairs in a show of solidarity.
Bradley is a pretty big dude, standing at 6' 2" with a solid build. Normally someone who might have made me a little nervous, his personality was completely disarming. His excitement about doing porn was apparent from the first few emails we exchanged, asking all sorts of questions about how everything worked.
When he showed up and the cameras were rolling, Bradley seemed almost in disbelief that it was actually happening. After a minute, though, he dove in and embraced his exhibitionist side. He couldn't help but break into a smile every once in a while when the camera came in for a close-up; he was definitely having fun with it.
Before the shoot, Bradley held off from busting a nut for, "two painful days." Even with a healthy sex life with his wife, he still normally finds time to jerk off at least once a day. Bradley must have been busting at the seams after two days because when he got the go-ahead, massive streams of cum flew right over his head and coated his stomach.
Tags: Big Cumshot