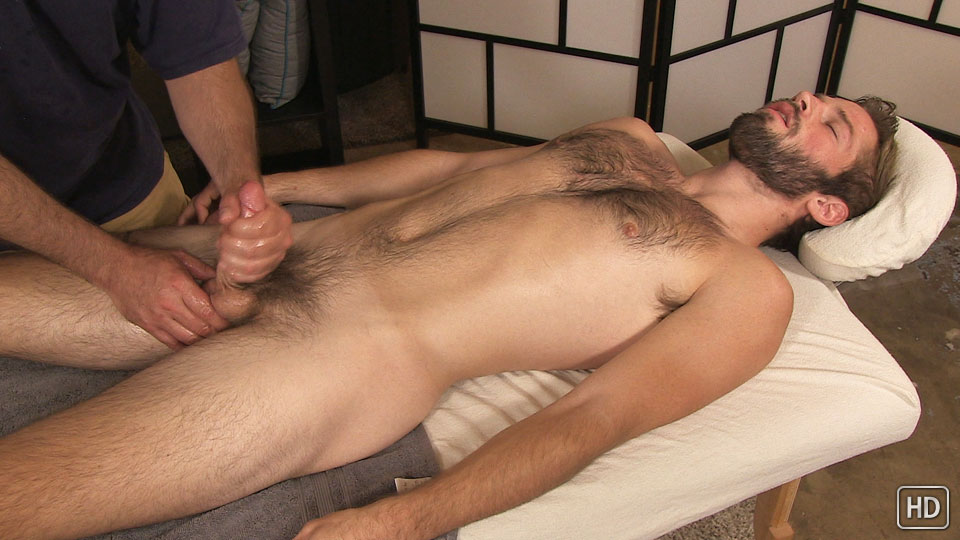 Watch the full scene:
Join Now!
When I hit Barry up about coming back for a happy-ending massage he barely batted an eye before saying he was down for it. Not only is he an open-minded guy, but a considerate one -- he got his girlfriend's approval before sending a text about setting up the shoot.
Barry had gotten a rub down once before. A couple years ago by a girl he paid at a massage parlor. He shrugged it off as a, "Why not?" experience. This time, of course, was a little different.
The cash waiting at the end might have been a motivating part, but something told me that he was a little excited about trying something new and having a guy do the honors. A big clue was that be was already halfway hard by the time he unwrapped the towel from his waist.
No sooner was Barry face down on the massage table than his cock was swelling up from between his legs. His furry ass was too much to resist. And Barry was glad to lift his hips up to give his hole some attention.
Rolling over onto his back, Barry's cock was flying high. With every pass of my hands it got harder, and his facial expressions grew more and more intense. After a few last rubs down his hairy chest, I grabbed his rod with the finish line in mind.
Slowly working his cock at first, I picked up the pace, bringing Barry up to an orgasm that left him quietly gasping as his cum left its traces across his happy trail.