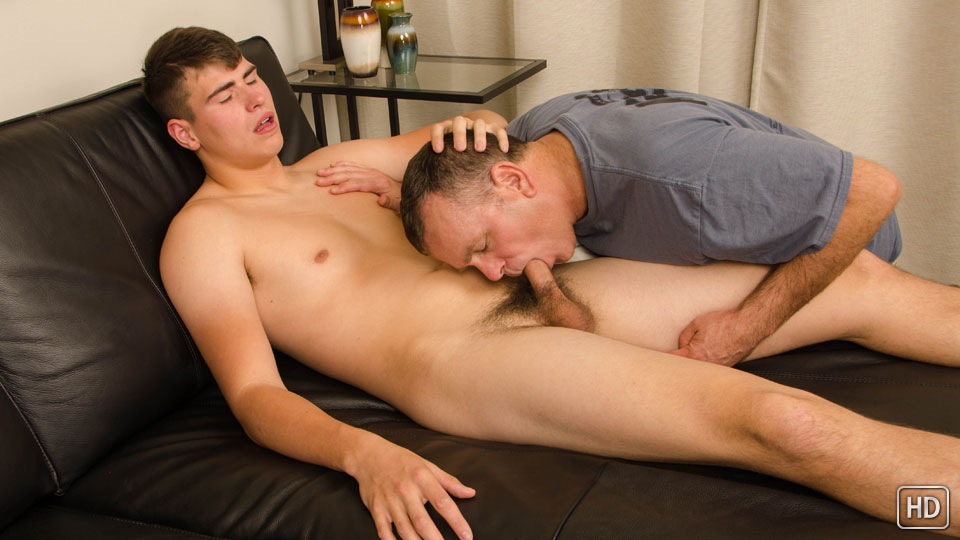 Watch the full scene:
Join Now!
Ricky seemed to be somewhere between curious and gung-ho about getting his dick sucked by a guy for the first time. Like a lot of str8 guys, he'd heard that we know how to get it done better than any girl.
A few weeks went by before he decided to give it a shot, but from pretty much the moment he walked in he was playing with his cock and getting himself primed. And horny as hell from the looks of it. As soon as I unzipped Ricky's shorts he was already rock hard.
The moment my lips were wrapped around his cock pretty much tell the story. Ricky's mouth fell open and he let out an audible gasp. Instinctively, he reached up and put a hand on the back of my head to get the rhythm going.
By the time Ricky stood up, he could tell this was going to be the bj of his lifetime and didn't hold back from pounding my throat every chance he got. Soon enough the tables were turned and Ricky was bent over on all fours while I rimmed his 19 y/o ass.
Getting Ricky up to the edge took some work, but worth every second. The build-up was so intense.
"I'm so close. Keep going," he whispered as I brought him nearer and nearer to cumming.
Ricky's face was flushed red as he gave the final word that he was going to bust. With a few more strokes, he was shooting his load all over his smooth stomach, panting and moaning as I went in to suck the last bit from his throbbing cock.
Tags: Oral