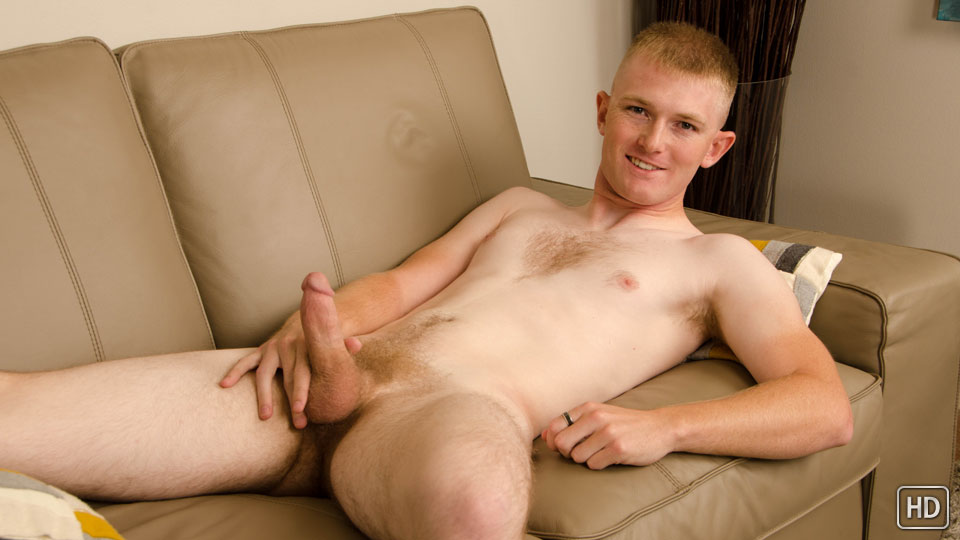 Watch the full scene:
Join Now!
Vance wanted to try something a little different; something that he said his friends would be very surprised to hear he'd done. He grew up in a conservative, religious family (you might recognize his telltale shiny white undies) and was an overall reserved guy through high school. But the military brought him out to So Cal, he had turned 22 y/o a few days earlier and decided to give porn a shot.
Surprisingly, he came across as someone who was not all that phased about shedding his clothes for the world to see. That was until I asked how he was feeling about his first time in front of the cameras. It was actually kind of endearing to hear him stammer, explaining that he's a calm person and wasn't all that nervous.
He came prepared, though. And, thankfully, all natural in the body hair department. Vance is normally a guy who rubs one out a couple times a day, but had saved up for a painful two days before his shoot. A little slow right out of the gates, once his cock got hard there seemed to be nothing that was going to make it go limp. It's a thick one, for sure: 5 1/2 inches around. Even though he'd measured it before, it didn't seem like such a bad idea to get the "official" measurement myself. (wink)
Once he got the go-ahead for the grand finale, Vance's face got focused on the task at hand (pun intended). It was pretty intense as he built himself up to cumming. His balls almost immediately retracted behind the base of his cock and the moaning switch got turned on. Vance rolled his head back on the couch until unloading a creamy load onto his bushy pubes.
Tags: Hairy, Redhead/Ginger, Blond