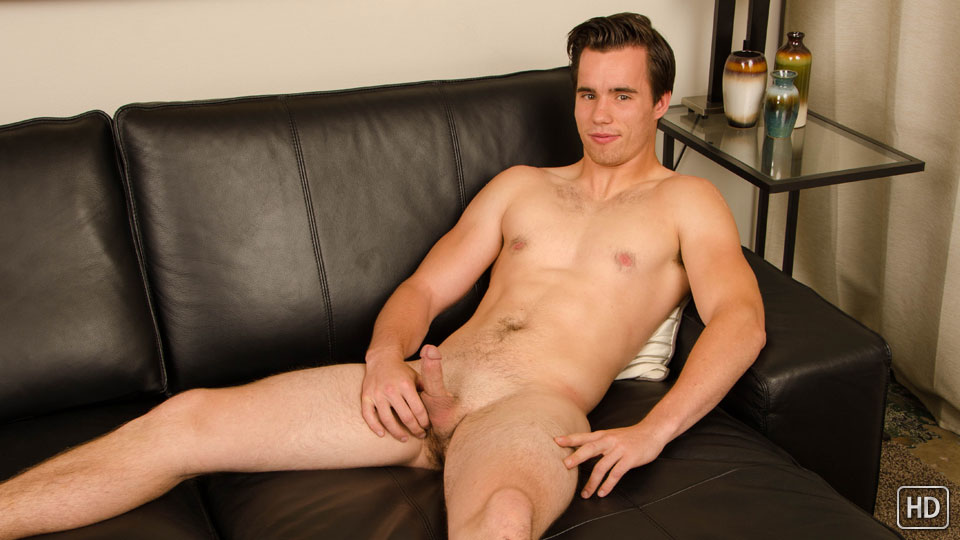 Watch the full scene:
Join Now!
Gabriel was a wrestler growing up. And a football player. Baseball, track... you name it and he's done it.
"Football was my favorite," he explained, "but I was better at wrestling."
These days, now 23 y/o, he's even gotten into coaching. But decided that a little extra money wouldn't hurt, so he started looking around at other ways to make some cash.
When we first caught up on the phone, Gabriel seemed nervous that his friends might find out he was doing porn. After showing up, he still hadn't told anyone and said that most of his buddies would probably be shocked to hear he was getting naked for the world to see, but admitted that he was pretty excited about making the leap.
That much was evident literally the moment Gabriel pulled off his gym shorts -- he was already sporting a boner in anticipation of his debut. And it stayed that way from then on; he didn't even ask for porn to watch for "motivation," apparently horny enough just having the camera pointed at him.
Gabriel may have even done some homework on how to perform because I'd say he pretty much nailed it. He was ready for his cumshot almost immediately and I had to stop him a couple times from finishing too soon. All that edging seemed to only enhance the show. But once he got the go-ahead, Gabriel was ready to explode in no time, splattering cum onto his pubes.
Tags: Muscular