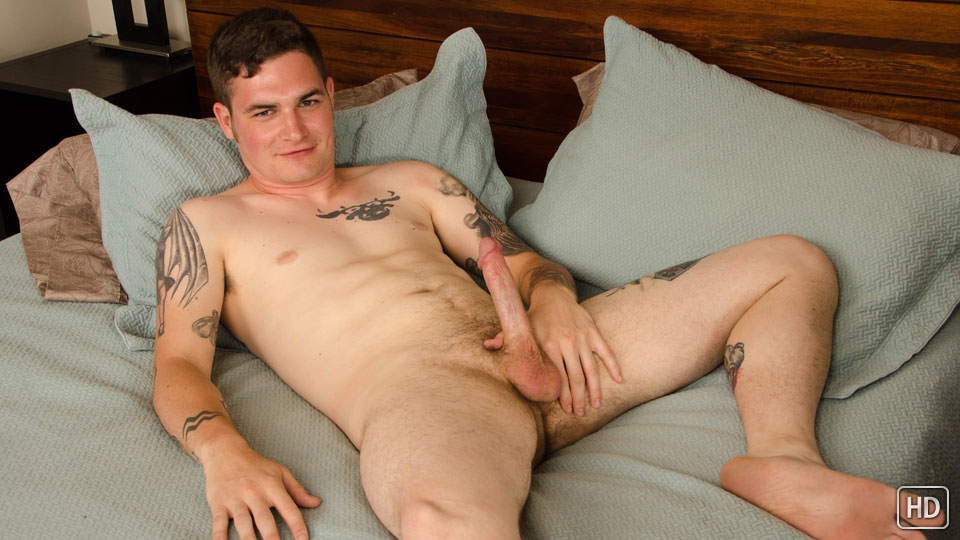 Watch the full scene:
Join Now!
Drake had been thinking about doing porn for a whole two weeks before sending in his application. He ran the idea by a couple buddies first, though, and even made sure to get permission from his girlfriend. Not only did she give him the okay to go for it, but made sure he'd properly prepared.
"She told me to wash my pubes," Drake explained with a laugh.
Standing at 5' 4", Drake has a larger-than-life personality. Definitely a joker with a bit of show-off side. His ruddy cheeks blushed even more when I first told him that the guys watching his video would probably think he's hot. That only helped in letting his inner pornstar really came out.
For a pocket-sized guy, I was impressed at how big of cock he has. Of course, we had to get the "official measurement" -- 7 inches in case you wondering. And that butt! Drake was not too keen on showing it off, but he bit the bullet and bent over after getting complimented on it.
Even though he has a girlfriend, Drake still finds the time to jerk off. Once a day seemed pretty standard for him. With her blessing, he'd held off from both sex and masturbating to save up for a couple days before the shoot. Needless to say, he couldn't wait to get some relief. And when the time came, he was loudly moaning while the thick load pulsed out of his cock.