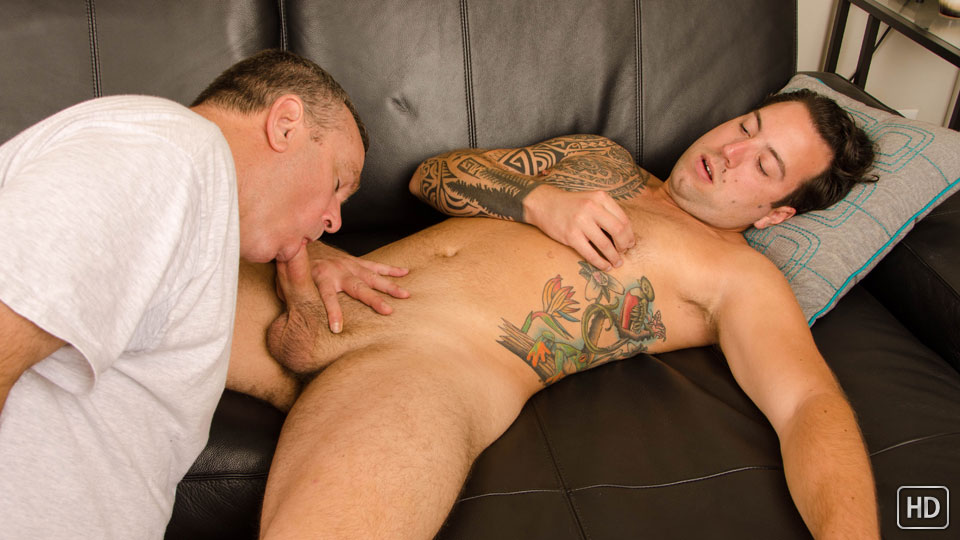 Watch the full scene:
Join Now!
Getting Jerry back for BJ scene took some work. Not that he was opposed to the idea; in fact, there seemed to be a kernel of growing curiosity about how us guys get things done since his first shoot earlier this year. The problem was his day job. He works all the time!
Alas, we finally got it scheduled and Jerry showed up, just like his past shoots, horny, hard and ready to blow a load. Before the cameras were turned on I could see the bulge behind his jeans. A few rubs was all it took to get him rock hard.
When my lips were wrapped around his cock, Jerry's facial expressions said it all. He was already enjoying the ride.
Remembering back to his massage shoot, I pushed his legs back to rub his hole and, without hesitation, he grabbed them to pull them back and give me full access between his soccer butt cheeks. I slipped a finger in his ass which made him slip into a state of ecstasy.
Jerry really got into it when he stood up to grab my head and fuck my throat like a true pro. He's got a thick one and it really tested my gag reflex. Hey... I'm not complaining.
Back on the couch, it wasn't long before another great finish. Jerry's orgasms are some of the best and most intense to see. As I worked his shaft, he reached up to play with his nipples, breathing heavily and pushing his head into the pillow as he got closer to cumming. All the cue that was needed was hearing him gasping out of control, "Fuck yes. Oh, fuck..." and out popped a creamy white reward!
Tags: Oral, Hairy, Stocky/Husky