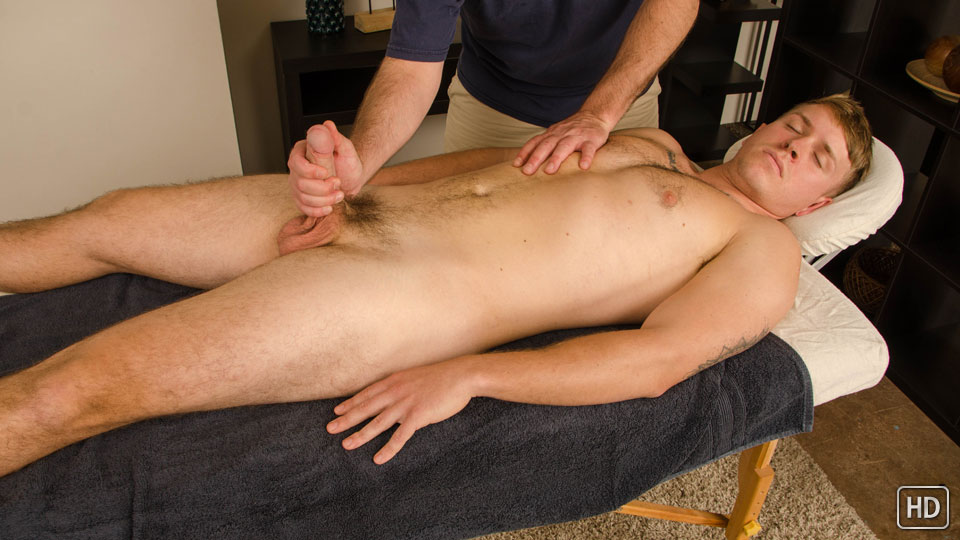 Watch the full scene:
Join Now!
It had been nearly a year since I'd heard from Tobin, so you can imagine my surprise when he got in touch recently to see about doing another shoot. I'd mentioned the massage shoot to him earlier, but he was non-committal about it at best. Eventually, the money sounded pretty good and, after thinking about, decided to give it a go.
What's funny is that one of Tobin's favorite porn "genres" are the happy-ending videos and he'd fantasized about getting one for years. Being married, he even passed up the chance when he got an offer from a lady while on deployment overseas. But getting one from a guy was definitely a leap for him. Tobin has never done anything sexual with a guy before, so he was understandably a bit nervous when he showed up.
Luckily, though, he'd held off from jerking off for a couple days and was extra horny. Laying face down on the massage table, Tobin's cock was growing stiffer and harder with every pass of my hands between his legs. And, damn, that bubble butt of his was fun to fondle. I thought he might flinch when I spread his ass cheeks and rubbed his hole, but that seemed to make him get even harder!
Flipping over onto his, back, Tobin was so charged up that he gave a quiet whisper a couple times, "You better slow down."
Apparently, he was *that* close to cumming. His cock was throbbing in my hands as he held back from busting too soon.
When I gave him the thumbs-up to fire when ready, it barely took a minute before Tobin's body clenched up and he moaned that he was about to blow. He lifted his head up and sprayed his abs with two days worth of jizz.
Tags: Big Cumshot, Hairy, Blond, Muscular, Massage